Plaid Cymru outlines its 'ambitious' policy ideas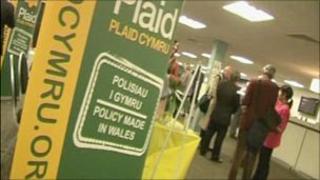 New solutions to long-standing health, education and environmental issues are among suggestions gained from a Plaid Cymru consultation, the party says.
They are described as "some of the most innovative and radical being considered" by the party before next year's assembly election.
They feature in a Plaid paper called WalesCan - be clever, green, healthy.
Policy director Nerys Evans said "ambitious and transformational policies" were needed for tough times.
The discussion paper outlines some of the major challenges Plaid believes Wales is facing in three key policy areas.
Speaking at its launch at the party's annual conference at Aberystwyth, Ms Evans said: "The fundamental principle underpinning all of our work as a party is the deep belief that ambitious and transformational policies are required to answer the challenges of the difficult times ahead."
On health, Ms Evans said obesity, heart disease, cancer and diabetes had become a feature of Welsh communities and were all too common.
She said the party would change the NHS's focus to make sure more emphasis was put on public health and prevention by the end of the decade.
Plaid has been in coalition with Labour in the Welsh Assembly Government since after the 2007 election.
Incentives would also be given to encourage newly-qualified doctors to move into the most deprived areas.
'Creativity'
In education nothing less than a revolution was needed to give children better prospects and boost future economic success, Ms Evans said.
"We must equip the next generation to cope with the demands of a new world by using their creativity," she explained.
On the environment, Ms Evans said Plaid would seek to transform the economy by looking into the creation of a national not-for-profit public company to use Wales' natural resources.