Hunt for Legionnaires' source in south Wales narrows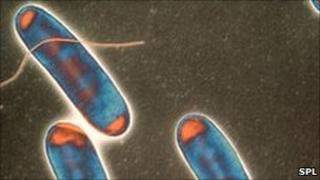 Officials investigating a Legionnaires' disease outbreak in south Wales say they are narrowing down its source.
Experts believe the source is in the Merthyr Tydfil, Rhymney or Blaenau Gwent areas, says Public Health Wales.
A 70-year-old man is the second person to die of Legionnaires', after the death of a woman, 64, from Pontypridd.
Doctors are trying to establish if they are linked to the main cluster. So far 14 cases have been identified, with another three under investigation.
"It's fair to say we've been narrowing it down but we're still some way from certain as to where the source might be," said Dr Meirion Evans, from Public Health Wales.
"We've narrowed it down to the Blaenau Gwent, Rhymney valley and Merthyr Tydfil area through investigating the place of residence, or the movement of individuals who have caught Legionnaires' disease and also through looking very carefully at potential sources."
'Common factors'
Dr Evans said the process for searching for the source of the outbreak was complex and took time.
"We have to take into consideration not only where people live. In fact many of the cases live quite some distance away, but may have travelled through the area," he explained.
"We're looking for common factors for links between cases, particularly cases who may have visited the area and perhaps spent time in the area even though they don't necessarily live there."
The focus in the hunt for the source of the outbreak has been on industrial premises and large air conditioning systems.
But Dr Evans admitted that it was possible that they would not be able to definitely identify it.
"Not all outbreaks have been successful and pinpointed the source," he said.
"You can have a source that last perhaps a few days or a week, and perhaps the company who own the cooling tower, for example, if they treat it with chlorine, then it is dealt with even before anyone identifies that as the source."
Information has been circulated to GPs advising what steps should be taken if patients have symptoms.
Public Health Wales, the Health and Safety Executive and seven council areas are involved in the investigation.
Advice
Dr Gwen Lowe, consultant in communicable disease control for Public Health Wales, said: "Legionnaires' disease is a rare but potentially life-threatening illness.
"Most of the cases of Legionnaires' disease that are notified to us are isolated cases, but outbreaks can occur.
"People become infected when they inhale legionella bacteria which are spread through the air in the form of a fine mist or droplets from a contaminated water source.
"Legionnaires' disease cannot be passed from person to person."
The disease begins with flu-like symptoms and can lead to pneumonia, usually in adults.
Anyone worried about their health should contact their GP.
The councils involved in the investigation include Cardiff, Merthyr Tydfil, Rhondda Cynon Taf, Caerphilly, Blaenau Gwent, Torfaen and Monmouthshire.
Last year, there were 24 confirmed cases of Legionnaires' disease in Wales, most of which were sporadic. On average, Wales has about 13 cases each year.