Would-be Johnstown robber's 'floral tattoo'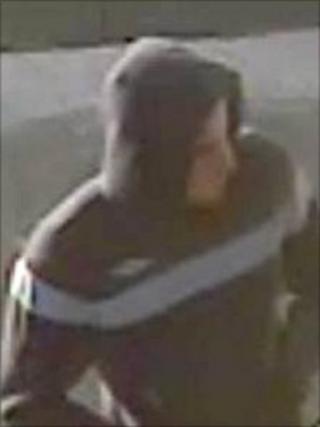 Police trying to trace a man who attempted to rob a village shop while armed with a knife say he has a distinctive tattoo.
The would-be robber is said to have a blue ink tattoo, of a floral design similar to the Prince of Wales feathers, in the middle of his back.
The incident took place at The Shop in High Street, Johnstown near Wrexham, at 1855 BST on Thursday, 2 September.
Two passers-by tackled the man outside the store.
One of them received cuts to his head but was later discharged from hospital.
Police said the offender made off on foot along Merlyn Street.
During the struggle, his top was pulled up around his head and revealed a tattoo 20cm by 20cm on his back.
He was also described as white, tanned, and of athletic build. He was said to be about 6ft (1.8m) tall and aged between 20 and 30.
He was wearing a black balaclava, black top, blue tracksuit trousers with a white stripe, and black trainers.
Police are appealing for anyone with information to contact them on 101 or 0845 607 1001 (Welsh) or 0845 607 1002 (English). Alternatively, call independent charity Crimestoppers on 0800 555 111.