NASUWT upset by Wales on code on sites like Facebook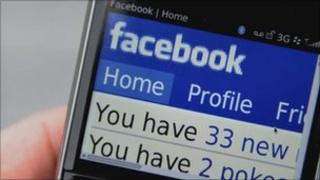 A code of conduct covering areas such as how pupils and teachers in Wales talk to each other on websites like Facebook is being opposed by a union.
The NASUWT says the new code is not wanted or needed and represents a waste of public money.
The new code is being launched by the General Teaching Council for Wales (GTCW).
Chair, Angela Jardine, said teachers had to be aware such sites could be used in ways unhelpful to them.
She said: "This revised code underlines the fact that teachers are true professionals."
The new code says that registered teachers should base their relationship with pupils on trust and respect.
It states that registered teachers must "ensure that any communication with pupils is appropriate, including communication via electronic media, such as e-mail, texting and social networking websites".
The code also states that teachers: "conduct their relationships with pupils professionally and appropriately both in school and out of school".
The new code of professional conduct and practice will apply to nearly 40,000 registered teachers and followed a consultation with members of the profession.
The GTCW said the new code outlines "for the benefit of parents, pupils, the wider public and the teaching profession itself, the high standards to which teachers in Wales adhere".
Overwhelming opposition
But NASUWT Wales organiser Rex Phillips said: "The NASUWT would not wish to give legitimacy to the code, not least, since it has been implemented in the face of a consultation process that revealed overwhelming opposition to its introduction.
"The GTCW has, once again, showed contempt for the views of the profession."
Speaking on BBC Radio Wales, Mr Phillips said the code was not needed as less than one per cent of registered teachers in Wales had come before the General Teaching Council of charges of professional misconduct.
He said: "The 10-year anniversary of the GTCW is coming up in October. In that 10-year period the number of teachers that have faced alleged professional misconduct hearings is less than 1% of the teaching force in Wales so clearly teachers know how to act professionally.
"With such a small proportion of teachers' professional conduct being called into question you have to say why bother with the code. They don't need the code, people know how to act."
"Teachers know what is expected of them, that's why we believe it is unnecessary."
GTCW chair Ms Jardine said that including social networking sites on the new code allowed teachers to ask for guidelines on their use.
Ms Jardine said teachers have to be aware that social networking sites could be used in ways that were not helpful to teachers as professionals.
She said the code "would allow a teacher to go with their teachers' union to local authorities, the Welsh Assembly Government and schools to ask for policies and guidance on their appropriate use."