BT drop £550,000 village broadband quote to £100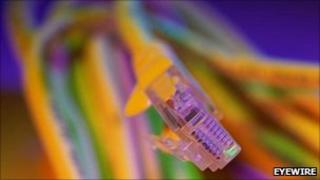 Villagers who were told they would have to pay £550,000 for broadband have now been informed the link could cost as little as £100.
BT said the large sum was needed for the infrastructure for the connection to Erbistock near Wrexham.
But after a £50,000 estimate from another firm, BT said it could cut costs by moving villagers to a nearer exchange.
Village broadband campaigners say they will not accept BT's lower quote.
Under BT's plan it would cost £100 for residents to swap telephone exchanges and they will also lose their existing telephone number.
Villagers who have campaigned to get the connection for more than five years said they still want to pursue a solution with Rutland Telecom.
The community are planning to cover the £50,000 cost of the Rutland Telecom scheme with the Welsh Assembly Goverment's broadband support scheme.
The scheme provides up to £1,000 per household or business premises to help with the set-up and installation costs.
Erbistock residents are planning to pool this money.
For £50,000, the villagers will receive super-fast broadband of up to 40 megabits per second (Mbps).
BT said the original £550,000 quote was only one of a range of solutions considered for Erbistock.
A BT spokesperson said: "It is not about taking custom away from another company, it is about providing a service.
"We have bent over backwards to find a broadband solution for Erbistock and have been exploring possible solutions for more than a year now.
"There have been considerable technical hurdles to overcome but we are pleased to say that we are now very close to delivering a broadband service to the community.
Benefits
"The proposed solution will deliver a stable copper broadband service to everyone in the village, and the open nature of our network means that local people will be able to enjoy a choice of broadband supplier and the great value deals that come with competition.
"We take our responsibility to deliver broadband to as many homes in the UK as possible very seriously.
"We're urging as many Erbistock residents as possible to take up the offer of moving their line to the Overton-on-Dee exchange so that they can start to enjoy the benefits of broadband."
BT said they can offer Erbistock broadband speeds between 1Mbps and 4Mbps.
Speeds of 8-10 Mbps are considered standard for everyday use.
A Rutland Telecom spokesman said they did not want to comment on BT's announcement.
A spokesman said: "Rutland Telecom is in discussions with the regulator regarding the situation in Erbistock and as such is not in a position to make any further comment at this stage."