Legionnaires' cases rise to 20 in south Wales valleys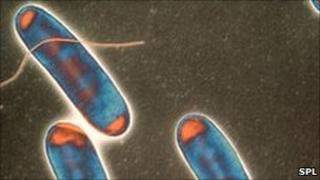 The 20th case of Legionnaire's disease has been confirmed in the Heads of the Valleys' outbreak, in south Wales.
Three people have died from the disease, but only one of the deaths was linked to the valleys' outbreak.
Bev Morgan, 49, from Rhymney, in Caerphilly county, died in hospital on Sunday in the outbreak in south Wales.
Public Health Wales is still waiting results of tests from three industrial sites in the area to find the source.
Investigations are focussing on a cluster of seven people linked to Rhymney.
A further potential cluster of four people in the Cynon Valley is being investigated. The other nine people have various links and connections across the outbreak area.
The 20th case is the first new case since 10 September.
The outbreak area is the corridor 12km (7.5 miles) either side of the Heads of the Valleys road between Abergavenny in Monmouthshire and Llandarcy in Neath Port Talbot.
A solicitor representing victims has called for tighter regulations to help prevent outbreaks.
Philip Banks, of solicitors Irwin Mitchell, said there needed to be better regulation of cooling towers and other equipment which have been at the centre of the investigation.
"A system could be put in place, for example an MoT system where companies have to have a certification system in place [where] they are maintained, inspected, disinfected and cleaned," he said.
"That would be a step forward to stop this happening again."
Public Health Wales has defended its decision to delay alerting the public to the outbreak.
Public domain
Doctors were told about the outbreak on 3 September but the authorities did not inform people until four days later.
Some GPs have raised concerns over the length of time taken.
However, Dr Gwen Lowe, a consultant in communicable disease control for Public Health Wales, told BBC Wales' Week In Week Out the delay was necessary so the health protection team could accurately assess the situation.
She said: "The reason why we delayed the public announcement of the outbreak was to allow our clinical colleagues and our GP colleagues to have that information to enable them to act, to make sure we had all the relevant information that we needed.
"You can imagine that once you declare an area you're interested in, people's recall of where they have been actually becomes a bit muddied by the information that is in the public domain."