Blaenau Gwent AM Trish Law will not stand again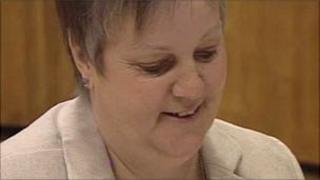 Trish Law, the only independent Welsh assembly member, has announced she will not seek re-election next May.
Mrs Law, from the People's Voice campaign group, was first elected in Blaenau Gwent in June 2006 after the death of her husband, Peter Law.
In 2007 she was re-elected with a 5,357 majority but in May's election she said People's Voice "took a blow" when MP Dai Davies lost his seat.
Mrs Law said she still believes she would win if she were to stand again.
In May, Labour's Nick Smith won the Blaenau Gwent parliamentary seat from People's Voice's Dai Davies with a majority of over 10,000.
Mrs Law, a former NHS care worker, who has five children, said the recent summer recess has given her the opportunity "to think long and hard" about her future.
She said: "My family often has to play second fiddle to the job which I will have done to the best of my ability for five years come next May.
Mrs Law's husband Peter was both AM and MP for Blaenau Gwent until his death from cancer.
He was originally a Labour politician but became an independent after a row over all-women shortlists.
"Having achieved what I know Peter would have wanted me to achieve and having given my all to the constituency and its people I care so much about for the past few years I have decided to stand down in May and put my family first."
However, Mrs Law insisted if she were to stand again, she would triumph at the assembly polls.
"I have no doubt that I would win," she said.
"The assembly elections are a very different animal to the general election which my good friend and independent MP David Davies lost in Blaenau Gwent four months ago."
With Mrs Law not seeking re election and with no confirmed alternative People's Voice representative for the constituency, the door could be open for Labour to reclaim one of its heartland seats in the south Wales valleys.
Alun Davies, Labour AM for Mid and West Wales, has already declared that he will be contesting the seat.