'Next step' decision due on bovine TB policy in Wales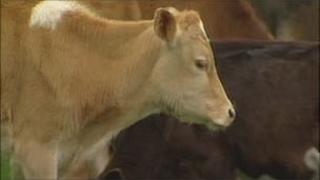 The rural affairs minister is due to announce the next step in the policy for dealing with TB in cattle in Wales.
The decision comes two months after the Badger Trust won an appeal court ruling to stop a planned badger cull in Pembrokeshire.
Elin Jones will unveil her future plans at a briefing in Carmarthen with the chief veterinary officer.
Last week it emerged ministers in England propose licensing farmers to shoot badgers on their land.
But Monday's announcement is not believed to be directly linked to the Defra move, with ministers looking to tailor a policy for Wales rather than working with the UK government.
In Wales, around 1,500 badgers - believed to spread the disease to cattle - would have been killed in the north Pembrokeshire area under a pilot plan.
The badgers were to have been trapped in cages and shot under the proposal.
But anti-cull protesters, headed by the Badger Trust, have argued there is no scientific proof that badgers transmit TB within cattle and it doubts a cull would help eradicate the disease.
Some opponents have suggest a vaccination programme instead.
"Vaccination would have majority support and would not lead to divided countryside communities," said Celia Thomas, of campaign group Pembrokeshire Against The Cull (PAC).
The group doubts ministers in Wales favour empowering farmers to deal with badgers.
"We know that the assembly government did not favour a farmer-led option when PAC discussed this with the minister and chief vet in July.
"Let's hope our own government comes up with a better solution we await the announcement from the minister on Monday with interest."
More than 12,000 cattle in Wales were slaughtered as a result of TB infection in 2008.
The National Farmers' Union Cymru (NFU) has said the disease was wrecking farming families due to a failure to tackle the problem, with nearly two thirds of herds in the proposed pilot area having experienced TB over the last six years.
The appeal court ruled the assembly government was wrong to make an order for the whole of Wales rather than the pilot cull area it had consulted on.
Professor Bill Reilly, president of the British Veterinary Association (BVA), said it was important to note the court of appeal decision was "based on the way the Welsh Assembly Government came to its decision and not on the scientific evidence."
Since the assembly government lost its court action, it has been involved in a lot of work, including research, in finding a way forward.
BBC Wales environment correspondent Iolo ap Dafydd said the key questions were the efficiency of getting rid of TB in cattle, as well as in wildlife, as well as the science of vaccinating badgers.
Ms Jones and the chief veterinary officer for Wales Dr Christianne Glossop are expected to give details at a media briefing in Carmarthen.