Round-the-clock stroke drug trialled in Cardiff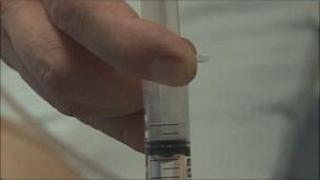 Doctors are trialling a new round-the-clock service to provide stroke patients with clot-busting drugs at Wales' biggest hospital.
Previously these drugs have only been available during the day as a specialist has to be on hand.
The round-the-clock service is being trialled at Cardiff's University Hospital of Wales to save more lives and reduce disability.
Consultants said the new service would make a huge difference.
Strokes are caused by a clot in the blood supply and parts of the brain are starved of blood and begin to die quickly.
This can result in death or leave patients with loss of speech, vision and the use of parts of the body.
Consultant physician Dr Hamsaraj Shetty said using clot-busting drugs increased the chance of a patient surviving a stroke and reduced the likelihood of disabilities afterwards.
"This is a proven treatment. Patients who receive the clot busting drugs are likely to have a big impact in terms of reducing their chances of disability after a stroke.
"Recently the clot-busting drug was given to a 62-year-old Cardiff man who had suffered a stroke. The results have been excellent. Within two weeks he was completely back to normal. He was back to work within a few months."
Patients who come into the emergency unit at hospital will be fast tracked to a new dedicated stroke ward.
The round-the-clock service will be trialled for three months and if successful will be rolled out permanently.
'Time is crucial'
The use of clot-busting medication benefits the NHS as well as the patient as aftercare for stroke victims can cost more than £15,000.
But patients who respond well to the drug need less after care afterwards, saving thousands of pounds in treatment and support.
Stroke is the third cause of death and leading cause of adult disability in the western world but acting quickly can dramatically increase the chances of a successful recovery.
Dr Shetty said: "If we treat within 90 minutes of the stroke the patient is three times more likely to get better. If you delay to three hours the figure goes down to fifty per cent.
"If you suspect someone is having a stroke don't call the GP. Call 999, and get the person to the hospital as soon as possible. We really need to see them in the first half an hour if possible. Time is crucial and there is a saying that 'time lost is brain lost' when it comes to strokes."