Citizen army in Newport's diplomatic front line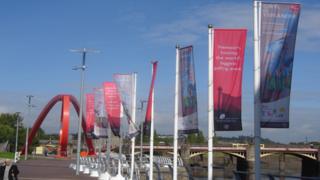 "Wanted: Courageous, enthusiastic ambassadors, just itching to tell the world what you've known all along - that Newport is a city with a rich cultural heritage and a bright future."
You have to admire the confidence of those running Wales' newest city.
With some 45,000 visitors a day due to flock into their corner of Wales for the 2010 Ryder Cup, Newport's city fathers had no hesitation in turning to its citizens to make sure the visitors leave town afterwards with a smile.
Their confidence, and newspaper advertisements, seem to have paid off.
Teenagers and students, husband-and-wife couples, pensioners - even a diehard Llanelli Scarlets fan from deepest Carmarthenshire - have answered the call to become an ambassador for Newport.
For six days these 100 men and women in red fleeces are standing in Wales' diplomatic front line.
Based at each of the points where golf fans will arrive in Newport, their mission is to ensure that Newport - and Wales - are portrayed in the best light.
"It's an idea we got from the Rugby World Cup in Cardiff in 1999," explains Ffion Lloyd of Newport council.
"We wanted a team of people to be there on the ground to greet visitors and help them if they have issues."
Each ambassador has been trained in customer care and will be expert on what Newport has to offer as accommodation, leisure and entertainment.
"We have a really good age range," says Kerry Richards, ambassador programme manager, "from the minimum age, 16, right through to retirees. And it's a nice mix between men and women.
"Obviously most of them are from Newport, but there are some from as far afield as west Wales, and one man, originally from Newport, who now lives in London but wanted to come and join in."
Perhaps remarkably, there has been no need for a selection procedure.
"The people who applied are all people who want to, and are able to, do the job," says Kerry. "The standard has been brilliant.
"They are really high quality, switched-on people who are passionate about doing the best they can for Newport."
People like Jenni McCabe, a 60-year-old retired insurance account manager.
Originally English, Jenni has lived in Newport for the past 25 years, and is quite clear about how she sees her ambassadorial role.
"It's important to put a positive face on what we have here in Newport," she said. "We have got so much.
"The first thing we have to do in my opinion is to smile, and then build a rapport with people.
"We want to make their experience of coming to Newport better. People buy people, don't they?"
Margaret Went, a 67-year-old retired nurse, used to work at the city's St Woolos Hospital.
Margaret says she is not worried at the prospect of having to bring calm to potentially stressed, irate or overbearing golf fans.
"It won't bother me," she says. "Being a ward manager I have been dealing with people, unhappy or otherwise, all my life."
Without prompting from any of the officials at her training session at Newport Centre, Margaret is keen to explain her decision to volunteer.
"I'm passionate about Newport and hope to promote it whenever possible," she says.
"We want to be left with a good feeling after the Ryder Cup has finished; to have a legacy of businesses and tourists coming into the city.
"I think it's a very important role to play. We are going to be the first people most visitors are going to see and first impressions are the best."
Scarlets rugby fan Martin Williams, a 35-year-old student from St Clears, Carmarthenshire, is studying events management at UWIC in Cardiff, so there are no prizes for guessing why he wants to be an ambassador in the Dragons' lair.
But he confesses he has some homework to do.
"Local Newport knowledge is something I'm going to be spending the rest of the week revising," says Martin. "But it's a passion for Wales that's going to be important."
Asked whether he and his cohorts can fit the requirement in terms of courage and enthusiasm, he smiles.
"We wouldn't be getting up at 5am for no pay unless we were enthusiastic," he says. "This is a chance to promote Wales."
Is he hoping to meet and greet someone famous - a film or sports star, maybe?
"You never know," he answers, "but the important thing is to look after all customers as if they were famous."
How's that for diplomacy?