Police chiefs concern over elected commissioners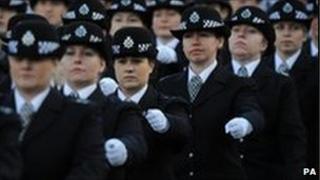 The four Welsh chief constables have voiced concerns about UK Government plans for elected police commissioners.
The top officers for South Wales, North Wales, Dyfed Powys and Gwent say elected officials are not needed.
Proposals for elected police commissioners, who would be able to hire and fire chief constables, were in the Conservative manifesto.
In a joint letter, the chiefs said: "We are seeing a solution being developed without there being a real problem".
Police authorities would be replaced by elected police commissioners who would be a responsible for setting a force's priorities, as well as appointing chief constables.
The concerns of the force chief constables come in a letter to Plaid Cymru AM Chris Franks, for South Wales Central.
Mick Giannasi, chief constable of Gwent Police and chair of the Association of Chief Police Officers Cymru (Acpo), wrote on behalf of the four Welsh chief constables.
"Currently, Welsh police authorities have a good mixture of elected and independent members from diverse backgrounds who have a broad range of skills and the ability to represent our communities," Mr Giannasi said.
"Whilst the model may not be perfect, they hold chief constables to account and do work very well and are effective. As a result, many of the generic criticism levied against police authorities don't apply here.
"In many ways we are seeing a solution being developed without there being a real problem and we do have a concern that a major change is being rushed through on the basis of philosophical principle without the detail having been explained or properly tested.
"Having said that we also recognised that the government has a democratic mandate and has stated a clear intent to introduce what are called Police and Crime Commissioners in each force area.
"We are therefore working with the Home Office with the aim of highlighting the areas we believe are problematic and with a view to developing a working solution."
The concerns of the Wales police forces are backed by the South Wales Police Authority who called plans for elected police commissioners "unsustainable, unnecessary and too costly".
South Wales Police Authority chair Councillor Russell Roberts, said it does not oppose "change" but does not feel the current proposals would lead to "improvements".
"Too costly"
He added: "The home secretary and policing minister have both publicly stated that the costs of introducing a Commissioner will be less than the current Police Authority structure. This is naive to say the least."
Councillor Roberts said the current running costs of South Wales Police Authority are £850,000, 0.34% of the police budget for South Wales. He said the Local Government Association had estimated the cost of elections of police commissioners at £50m across Wales and England.
He said: "As an authority, we wonder where the extra money for this will come from? In reality, this is likely to have to be found from existing police budgets. The spending review is being announced next month when we are expecting big cuts from our budget."
Among other concerns are that police authorities, made up of at least 16 people, will be replaced by one elected individual.
Political extremists
There are also fears of commissioners with populist agendas or political extremists being elected which South Wales Police Authority said would be damaging for policing.
Michael Levi, professor of criminology at Cardiff University, said he shared similar anxieties.
He said: "I share the anxieties of commissioners being elected simply because they pander to our baser instincts for retribution.
"But it's also an opportunity to get a lively, sensible and democratic debate going about policing."
The coalition government plans to have elected police commissioners in place by 2012.