North Wales web initiative drives golf passion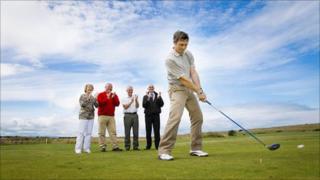 A web initiative is helping drive golf tourism across north Wales, building on the immense interest in the Ryder Cup.
Golf clubs across the region say they are reaping the benefit from the "huge success" of an online booking service.
The system has seen 19 clubs pocket nearly £500,000 in green fees over the last three years.
Tourism Partnership North Wales said it has helped tap into the surge in interest in the sport as the Ryder Cup is hosted by Celtic Manor.
"The Ryder Cup has generated a great deal of interest from across the pond in the United States of America," said Carole Startin, of the partnership.
"More and more American golfers are discovering our fantastic courses.
"Our decision to concentrate our efforts online has been extremely important. The ability to book online 24/7 is vital."
The online booking systems means golfers can not only arrange and pay for a club visit, but also obtain information about the clubs, special events and crucially, local accommodation.
Six different course can be booked at once, which means an entire week of golfing can be arranged in one go.
The system has been developed by sports company BRS, which specialises in the golf market.
So far, the north Wales clubs have taken nearly 7,000 bookings bringing an estimated 20,000 golfers to play in the region.
"They have generated £468,351 in tee time revenue but that figure does not take into account the money the visiting golfers also spend on things like accommodation, petrol, food and drink," added Ms Startin.
"I think this is a key year for us. We have to take full advantage of the opportunities created by the Ryder Cup and maintain the momentum afterwards."
Conwy Golf Club has been one of the early adopters of online booking systems, and has since linked its service into the partnership scheme.
"It's great in many ways, as it gives us a 24/7 booking system," enthused the club's secretary, Aled Jones.
"It helps us in terms of administrating visitor bookings and now we also have a payment system online too.
"Today, we are very much an online business and that aspect of it is growing."
The club secretary said the Ryder Cup had certainly helped raise its profile, and increase visitors.
For two years, the club has hosted the Ryder Cup Wales Seniors Open competitions, and has just held the Wales Ladies Championship of Europe.
"I think think the real legacy of the Ryder Cup for us is that people are getting to know much more about places like this," he added.