Return of helmets plan for North Wales Police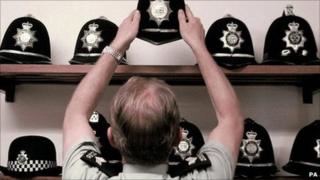 North Wales Police officers may soon cast off their baseball caps and revert to the traditional helmet.
The idea has been raised after a staff survey and feedback from the public which found the American-style caps were considered unprofessional.
The caps were brought in by the former Chief Constable Richard Brunstrom in 2006 as they were deemed to be more suitable for operational reasons.
His successor, Mark Polin, commissioned the survey in January.
Now, North Wales Police Authority is being asked to ratify the uniform change at a meeting next Thursday at St Asaph.
"No additional costs will be incurred," said Deputy Chief Constable Ian Shannon.
"Indeed, we anticipate a reduction in cost, an increase in practicality and a uniform that takes into account the views of the public."
The plans include replacing the baseball caps with flat caps, helmets and bowlers, for female officers.
Black sweatshirts and jumpers are also due to be replaced with a zip up fleece, and officers will be able to wear a shirt and tie.
Traditional uniforms and helmets have always been retained by officers, but they were used more for civic and ceremonial occasions.
A spokesman for the Police Federation in north Wales, which represents officers, said the change in uniforms had always been controversial, especially with "traditional" and older officers.
They felt the uniforms, although practical, suited younger officers better - a view endorsed by senior ranking officers.
"Chief officers agreed that a uniform review was appropriate," said Mr Shannon.