South Wales Police officers 'test positive for drugs'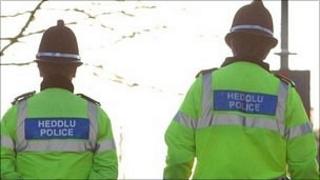 Three officers at South Wales Police have been suspended after testing positive for using controlled drugs, says the force.
The samples were taken as part of a random testing programme at the force.
They are under investigation by the South Wales Professional Standards Department and have been referred to the Independent Police Complaints Commission.
More than 120 officers have been tested since the programme started last year.
A South Wales Police spokeswoman said: "South Wales Police is among the forces within England and Wales which takes a robust and proactive response to the threat of substance misuse by its police officers.
"Since 2009, with the full support and co-operation of the staff associations, we have conducted a programme of random drugs testing of police officers across the whole of the South Wales area."
She added: "Due to the ongoing nature of these investigations it is not appropriate for any further comment to be made at this time."