Ryder Cup hotel evacuated in fire alarm 'shocker'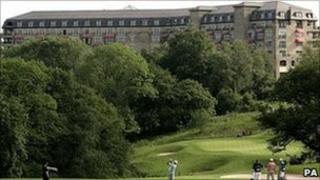 The venue hosting the Ryder Cup was evacuated in the early hours on Monday after a fire alarm went off.
Guests, including Europe team players, had to sit outside Celtic Manor Resort, Newport while fire crews attended.
Europe Ryder Cup team golfer Ian Poulter posted a video of the incident on his Twitter site, describing it as a "shocker".
A resort spokesman apologised and blamed a faulty smoke alarm in the hotel's underground carpark.
The resort is hosting the three-day tournament, golf's biggest event, on Friday with the US team due in later.
The fire service dealt with the alarm which went off at 0040 BST.
Poulter said he and his fellow Europe team players sat on the kerb outside as fire fighters arrived and the building was evacuated.
He wrote on Twitter: "Sitting on the curb outside the hotel at 1am with everyone full fire alarm in the hotel. What a shocker."
His video posting has been viewed more than 4,000 times since it went up.
The alert came as the golfing world is focusing on the south Wales venue for the transatlantic contest.
The US team, which includes Tiger Woods, arrived later on Monday morning.
The Celtic Manor Resort said a full evacuation took place.
"Subsequent investigations found this to be a false alarm arising from a faulty smoke detector in the hotel's underground car park," said a spokesman.
"The resort apologises to residents for the disturbance but their safety has to be the paramount concern in the resort's fire alarm procedures."