Offenders uncover 1860 Risca mine tragedy stone plaque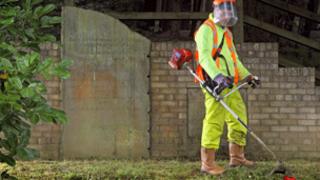 Offenders on a probation service community payback scheme have uncovered a "lost" stone memorial to miners killed in a pit disaster 150 years ago.
They were cutting back undergrowth on a hillside overlooking the Old Black Vein Colliery at Risca, Caerphilly, when they saw the memorial.
A blast in the mine on 1 December 1860 killed 142 men and boys.
Local historian Ray Lawrence said: "The team have done a great job because it was just neglected until they came."
The work, part of the probation service's community payback project, has uncovered an inscription on the memorial which reads "A sudden change at God's command they fell/They had no chance to bid their friends farewell/Swift came the blast without a warning given/And bid them haste to god in heaven."
Mr Lawrence, a former miner, said: "I only live a couple of miles away and even I didn't know this memorial was here.
"When I first came up here you couldn't see where it was because the brambles were six foot high and no-one ever came here - but in the 19th Century this was a very busy area.
"But this pit always had a bad name. They called it the Death Pit because so many were killed here.
"There were explosions regularly because the methane gas was so bad and the miners were using candles and even carrying tobacco and pipes with them."
Community payback offender Danny Williams, 19, from Nantyglo, Blaenau Gwent said: "It's been a good place to work but we've been hard at it, clearing the area, strimming and tidying it up.
'Reparation'
"I'm used to using strimmers so hopefully I've been able to do a good job."
Wales Probation Trust supervisor Ray Mogford said: "When we first came up you couldn't see the memorial at all but the boys have worked very hard here."
Community payback manager for Gwent, Mike Mogford, Ray Mogford's brother, said: "It is a constructive form of punishment because the members of the team are making reparation for their wrong doings.
"Everyone's a winner with this kind of scheme because the offenders are putting something back into the community, the community benefits and the environment is improved."