Ministers to meet at Ryder Cup over S4C future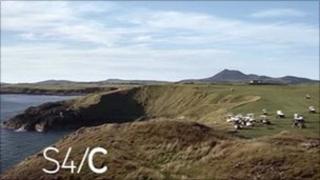 The heritage minister, Alun Ffred Jones says he will be holding meetings with the UK culture secretary during the the Ryder Cup to discuss S4C.
It follows a spat between Jeremy Hunt's department and the broadcaster over plans to cut £2m from its budget.
The UK government has insisted that the decision was 'mutually agreed', which has been rejected by S4C's chairman.
Mr Jones said he wanted to ensure the UK minister understood the context of S4C in Wales.
"S4C is not merely a channel," Mr Jones told BBC Wales.
"It is part of a wider strategy regarding the Welsh language and I am not sure whether Mr Hunt understands that."
The assembly government's heritage minister said he accepted that S4C was "not untouchable".
But he said he also wanted to remind Mr Hunt and the Department of Culture, Media and Sport (DCMS) of what he described as "promises made by Tory MPs in the run up to the election - that S4C was safe in the hands of the Tories".
Mr Jones said the meeting with the culture secretary would take place on Saturday.
The Welsh minister requested the formal discussion with the UK government after freedom of information requests revealed that senior figures within S4C had rejected moves to cut its budget.
S4C chairman John Walter Jones wrote to Mr Hunt on 21 May this year stating that on the basis of legal advice, it could not legally agree to Mr Hunt's proposals to cut its budget by £2m in this financial year.
However, information released in the FOI request also indicate that S4C's then chief executive, Iona Jones, was also negotiating with the DCMS in the same period.
The notes appear to show that she did agree the £2m cut with a top official within DCMS, at around the same time that her chairman was refusing.
The split between Ms Jones and the authority erupted into the open when Ms Jones left her job suddenly in July. It is not known whether the apparent differences over the £2m cut between her and Mr Jones was the cause of the departure.
The issue has led to the First Minister, Carwyn Jones to intervene, suggesting that Mr Hunt may have been wrong to tell the House of Commons that the matter had been agreed.
The Plaid Cymru MP, Jonathan Edwards, has also referred the issue to parliamentary authorities, accusing Mr Hunt of misleading MPs.
However, the DCMS has stood by its original comments, insisting that the S4C budget cuts were agreed by both parties.