Land of song, down to a tee as concert starts Ryder Cup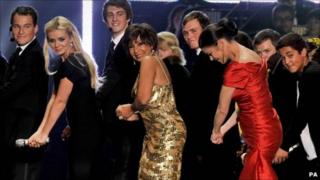 A Dame, Hollywood royalty, the nation's sweetheart and a teenage singing sensation raised the roof on Wales' welcome to the Ryder Cup on Wednesday night.
The whole spectrum of Welsh talent was on show - Dame Shirley Bassey, Catherine Zeta Jones, Katherine Jenkins and 13-year-old Shaheen Jafargholi were the undoubted stars of the show.
But the focus of attention too was on the Ryder Cup players themselves, who were probably most thankful that the Millennium Stadium's roof was closed for the event, after a day spent in the rain at the Celtic Manor.
The concert for a 13,000-strong crowd served to promote the host nation, and not just the Ryder Cup, and organisers will be hoping that someone, somewhere is beginning to draw up travel plans with Wales as a destination.
Prince Charles opened proceedings, praising the Ryder Cup organisers for their efforts to reduce the event's carbon footprint.
He was followed by a different kind of royalty - the Hollywood variety - as keen golfer Catherine Zeta-Jones, welcomed the crowd.
She spoke movingly about her husband Michael being unable to attend as they had planned but that he was responding well to treatment for throat cancer.
"Everyone couldn't be happier with his progress. He's holding up with great strength and dignity," she said, fighting back tears.
"He would be representing the American team and I would be wholeheartedly representing the European team, but not this year, maybe next time," she added.
But the musical acts managed to get a bit of stage time too. After all, song is what Wales is internationally known for, said Steve Jones, capable host of the 90 minute show.
Katherine Jenkins wowed with everything from a rendition of the love theme from the movie The Godfather to a spot of acrobatics.
Her turn at the end of her third and final song left the audience gasping with amazement as a male dancer, holding only onto two ropes descending from the stadium roof, proceeded to sweep the singer off her feet and whisk her into the air.
His swing is unlikely to be the best on show during the Ryder Cup, however.
Pontypridd rockers the Lostprophets followed. A man sitting behind me said: "These guys probably aren't used to the audience sitting there politely."
Lead singer Ian Watkins jokingly referenced this, telling the politely clapping crowd: "Don't go too nuts now!".
Then, in a scene reminiscent of a Miss World contest, the rival Team USA and Team Europe golfers, dressed in their finest black tie, swept down staircases at opposite ends of the stage as their names were read out.
Each golfer was accompanied by his partner. Tiger Woods the exception. He walked alone.
Then it was down to Britain's Got Talent finalist Shaheen Jafargholi to liven up the second half of the evening, singing and dancing two numbers with the Mark Jermin Stage School.
Performances by Ysgol Glanaethwy Choir and Only Boys Aloud followed. Together, the four youth acts proved Wales has plenty of fresh young talent coming through.
One of the biggest cheers of the night was reserved for Only Men Aloud and their medley of Tom Jones hits It's Not Unusual, Green, Green Grass of Home and Delilah.
He may not have been there in person but Tom Jones did manage to pop up on a giant screen with a recorded message abot how proud he was for his nation.
An unexpected appearance by Ioan Gruffudd with a reading of Dylan Thomas' Under Milk Wood sent ripples of appreciation through the crowd.
And then, to great applause, Steve Jones finally welcomed "Wales' greatest export to the world" Dame Shirley Bassey.
Sheathed in a spangly, floor-length gold dress, and writhing under the accompanying gold cape, she belted out Goldfinger and Diamonds are Forever.
Before earning a standing ovation, Dame Shirley dedicated her third and final song, Hey Big Spender, to "those big spenders who brought the Ryder Cup to Wales".
And then there was just enough time left for the night's artists to gather on stage for the national anthem, Hen Wlad Fy Nhadau.
At the end, as the celebrities lined up on stage and performed a synchronised tee off, 13,000 people remembered there was the small matter of the Ryder Cup still to play.