Inquest into Dyfed-Powys Police detective found hanged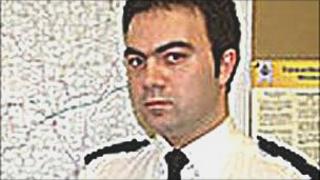 A police detective killed himself on the day he was due to be questioned by other officers after being suspended, an inquest was told.
Det Con Adam Chiffi, 35, from Robeston Wathen, Pembrokeshire, was being investigated over an alleged relationship with an under-age girl.
The inquest heard Det Con Chiffi was found hanged two weeks after he married his wife Hannah, also a police officer.
His wife told the hearing that she never believed he would take his life.
Pembrokeshire coroner Mark Layton recorded a narrative verdict saying Det Con Chiffi died as a result of self-administered asphyxiation.
The Independent Police Complaints Commission (IPCC) said on 11 May that it was looking into "allegations of improper contact with a girl".
No details of the allegations against him were given to the hearing.
The inquest heard Det Con Chiffi failed to arrive for a meeting with police on 7 July following his suspension which sparked a search for the officer.
Coroners officer Jeremy Davies told the inquest: "He didn't report as planned and was recorded as a high-risk, vulnerable or missing person.
"All available police resources were deployed.
"Mrs Chiffi suggested 10 potential locations around Pembrokeshire."
He added: "Letters were found and the contents implied Mr Chiffi was going to take his own life."
He was found five hours later by colleague Sgt Martin Rogers who told the hearing: "A letter in his blue Rover was addressed to: 'Whoever it may concern'.
"He was intending to take his own life. There was a map showing the position of the car in relation to where he may be.
"I ran into the field following the directions, went 150 yards and jumped over a hedge into a wooded copse and was confronted by Adam's body."
His wife Hannah told the inquest: "Chiff was such a deep person, he kept his emotions very much to himself.
"During the time of his absence from work he never shared the desperation he was obviously feeling.
"I never believed Chiff would take his own life."