US theme park has England, Scotland, Ireland - no Wales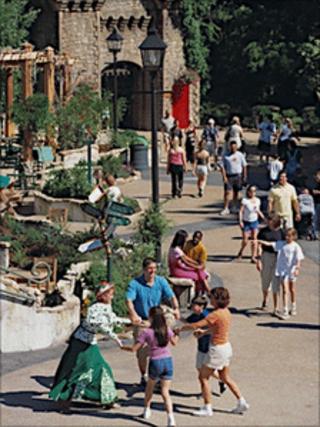 An American theme park based on the countries of Europe features England, Scotland and Ireland - but no Wales.
The omission comes at a time when tourism chiefs seek to promote Wales to the world as the country hosts the Ryder Cup in Newport.
Busch Gardens in Williamsburg, Virginia, is one of the most popular theme parks in the United States.
A spokesman promised new shows and rides for the park - but stayed quiet on news of a Welsh addition.
The 350-acre theme park is divided into sections representing selected European countries including England, Scotland and Ireland.
The England section of the park contains replicas of Big Ben and Shakespeare's Globe Theatre.
Scotland has a Loch Ness Monster rollercoaster ride and Ireland features an Irish pub and plenty of leprechauns.
Tourist Victoria Coddington, 26, from Cardiff, visited the park last month and said she was not surprised but disappointed, to find Wales didn't feature.
She said: "I found it amusing but typical. No-one outside of Wales seems to know about Wales.
"I visited the park with my American friends and they laughed and said " oops, we've forgotten about your country!".
"We shared a laugh about it but it is a shame really because there's a lot to Wales, we do have our own identity and culture.
"I mean Snowdonia is a great landmark, and it you were going to go for the obvious then there is the sheep of course.
"But there's also the Welsh costume, the Welsh flag with the red dragon is always a big talking point when you're abroad. Welsh singing and dancing aswell is a big part of our culture. Then there's also the language of course."
'Not surprising'
A Welsh Assembly Government spokesperson said: "This is disappointing to hear but not surprising as for many years Scotland and Ireland have been ahead of Wales in terms of marketing themselves to America."
The assembly government are hoping to use the publicity of the Ryder Cup as a springboard to market Wales to the world.
"We have invested in bringing the Ryder Cup to Wales, which has a potential television audience of two billion people worldwide and many millions in America," a spokesman added.
"We have used this opportunity to market Wales to America and will continue to work hard to do so, building on the invaluable exposure gained through the Ryder Cup."
Despite the Busch Gardens omission, Wales is better represented at other theme parks across the world.
The Epcot theme park at Walt Disney World in Florida has a United Kingdom Pavilion which features Wales. And Disneyland Paris will celebrate it's sixth Welsh festival to coincide with St David's Day next March.
However, Busch Gardens remain to be convinced about a Welsh addition, promising new rides, restaurants and show over the next two years - but no new countries.
The theme park opened in 1975 and the original countries consisted of England, Scotland, France and Germany. Italy was added in 1980 and Ireland in 2001.
A spokesman said: "For 2011, the park is rejuvenating its Oktoberfest section with new restaurants, shows and rides, including Mach Tower a 75-meter drop tower that provides a breathtaking view of the Virginia countryside.
"And in 2012, we are looking forward to opening a new multi-launch rollercoaster for our thrill-ride fans. We have a lot planned over the next couple of years so stay tuned."