Prepare for winter, says Wales' chief medical officer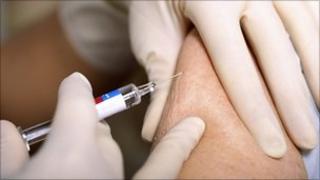 People, particularly the old and those with long-term illness, must prepare for winter to keep well, warm and safe, the chief medical officer for Wales has warned.
Dr Tony Jewell is due to release figures this week showing excess winter deaths have increased significantly in 2008/09.
He wants people to ensure their homes are as energy efficient as possible.
He will also urge those in the seasonal flu at-risk groups to get vaccinated.
The report shows that in 2008/09 there was an estimated 2,500 excess winter deaths in Wales, an increase of 74% compared to the year before.
Of this, 34% of winter deaths were caused by respiratory problems, including flu, which had been exacerbated by the cold.
Dr Jewell said: "Because the weather in the UK is not predictable, we are not always prepared for the severe bad weather that we can, and have in recent years, experienced.
"Older people are more susceptible to illnesses when the temperatures start to drop. More than 87% of winter deaths involve people over 75, with the highest rates of death amongst people aged 85 or over."
He said the flu vaccine was the "simplest and most effective way to protect people from the risks of flu and the serious complications that it can bring".
The free vaccine is usually available from the beginning of October and people are advised to contact their local GP to find out about getting their vaccination as early as possible.
'Fall in ice'
Dr Jewell added: "People should also make the most of the grants and schemes available to them to keep their homes warm during the winter."
He highlighted the Home Energy Efficiency Scheme (HEES) for householders over the age of 60 or those with children under the age of 16, the Energy Saving Trust and Care and Repair Cymru.
He said: "It is best for people to avoid going from an extremely warm room into the cold as this can have an impact on people who have respiratory or heart disease.
"While a fall on ice has an immediate impact, cold temperatures lead to stress on the vascular system which leads to problems with heart disease, stroke or chest infections that can come on a few days after the cold spell."
The Welsh Assembly Government plans to announce its seasonal flu vaccination campaign later this month.