Climber rescued after crag fall in Wye Valley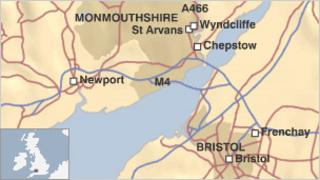 A climber was airlifted to hospital after being rescued after falling on a crag in the Wye Valley.
The 38-year-old man from Hampshire suffered back and rib injuries in the incident, at Wyndcliffe near Chepstow.
The rescue, which involved a specialist fire service team and paramedics, took three hours on Saturday.
The climber, who fell 50ft, had to be carried 300ft on a special spinal injuries board, said the Wales Ambulance Service.
Emergency services were alerted at 1145 BST to the emergency at the crag, which is 100ft high, above the main road.
'Difficult'
He had to be eased down the gorge slowly because of his injuries, and the difficulty of the terrain where which was steep, rocky and surrounded by trees.
Paramedic Nich Woolf said it was "excellent teamwork," with the fire service securing the stretcher with ropes in some sections of the slow descent, while the ambulance crew having to stop every few yards to check the casualty.
"It was quite difficult, the area is covered by trees and bushes and he was at a difficult angle."
He was taken to a waiting air ambulance in a field at nearby St Arvans and flown to Bristol's Frenchay Hospital but is not believed to be seriously injured.