Rainfall delay takes Ryder Cup into historic fourth day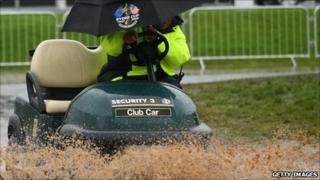 Bad weather has again disrupted the Ryder Cup, with the tournament being taken into a fourth day on Monday for the first time in its 83-year history.
Play restarted at Celtic Manor at 1330 BST Sunday after a delay of more than five hours due to torrential rain.
There has been some criticism of the staging of the prestigious tournament in Wales in October.
But the Ryder Cup has defended the move and hoteliers have said there will be room for those who have to stay behind.
The latest delays at the Newport event follow Friday's torrential downpours.
It means more than half the average monthly rainfall has fallen in just three days.
A total of 52.2m (2.04ins) of rain fell between 1730 BST on Thursday and 1000 on Sunday.
With the players back in the clubhouse and ground staff frantically mopping up pools of water from the greens and fairways, the US lead 6-4 but Europe are up in all six ongoing matches following a comeback late on Saturday.
The two foursomes and four fourballs to be completed on Sunday with single matches starting at 0905 BST on Monday.
Ryder Cup match director Ed Kitson said spectators who had tickets for Sunday would be able to use them on Monday, and, the same would apply for those with season tickets.
He also said a review was taking place of Friday's arrangements when spectators could not get a refund because a certain number of holes had been played.
The current forecast for Monday is dry with sunshine.
There has been more criticism of the scheduling of the tournament which was moved into October from September to accommodate the climax of the US PGA Tour's Fedex Cup..
James Lawton, chief sports writer of The Independent told BBC 5 Live the Ryder Cup was a commodity and organisers had hoped to "get away with" holding it in October.
"Golf is hawking this jewel of an event to the biggest bidder, with an unsuitable course at the wrong time of year. Why? Because of golfing schedules. It's a disgrace really."
But European Tour chief executive George O'Grady defended the decision.
"I think we all know the weather can change all the time," he said.
"This is a localised thing."
Sir Terry Matthews, the tycoon who built Celtic Manor, admitted he was "deeply disappointed" with the weather, but praised fans.
"Their support and enthusiasm for the event despite the disruptions has been extraordinary".
Some fans were waiting on Sunday at the nearby Magor services on the M4.
Ollie, one young fan waiting to be let on the course in the morning, told the station he was "a bit annoyed."
"We're not even allowed in the grounds, we're just sat in the car park."
Another in the car park Andrew Thomas said they were "thoroughly fed up", while Wayne from Redditch said the car park was underwater and like a lake, although a fish and chip van was doing a good trade.
Hugh Hilary, chair of the Cardiff Hoteliers Association, said that it would not be the spectators who would be in search of somewhere to stay on Sunday and Monday nights because of the delayed tournament finish.
"Many of the Americans have already checked out because they have fixed travel arrangements and will probably have to watch the conclusion of the Ryder Cup on TV at home," he said.
"It's the workers who have to stay who will be affected but there will definitely be enough hotel rooms to accommodate them."
Ryder Cup Europe advises only fans with tickets for Sunday will be admitted on Monday, when the final series of singles matches is scheduled to start at 0905 BST.
Ground transportation to the venue will only be available from the east park and ride at Llanwern, which is accessed off junction 23a of the M4 and is open from 0600 BST.
The west park and ride at Tredegar Park will be closed and all holders of parking tickets are advised to use Llanwern.
Motorists have been advised that all schools in Newport and Cardiff will be back on Monday, so congestion was likely to be heavy during the morning peak.
All fans arriving by rail, a shuttle bus will operate from Newport station.
Ryder Cup organisers emphasised that the general public will not be able to buy tickets for play on Monday.