'My name is Jones, Tom Jones.' Singer may have been 007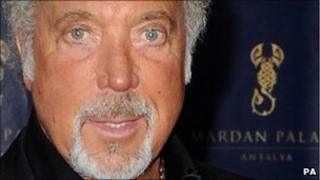 Sir Tom Jones has revealed that he was once considered for the part of James Bond.
The singer said producers toyed with the idea of casting him as 007, with a licence to kill as opposed to a licence to thrill.
He told Smooth Radio his huge public profile as a singer at the time meant that they decided against it.
Sir Tom said even to be linked with playing the special agent was "definitely a big compliment".
Sir Tom, who recorded the theme for Thunderball in 1965, starring Sean Connery, did not make clear at which point in his career he was up for the role.
'Big character'
It is likely to have been the late 1960s or early 1970s, when the Connery era as Bond was ending.
Sir Tom told breakfast presenter Lynn Parsons: "When I was young I would have liked to be James Bond, and at one time it was discussed," he revealed.
"I think it came from Cubby Broccoli, who was the man in charge, of course, and he said when my name was put forward, 'Tom Jones is so recognisable as Tom Jones - he's a character, he's become this singer with a big character'.
"'So in order for him to do James Bond, would people accept him as being James Bond? Could they get past him being Tom Jones?' - and so apparently that was what the problem was," Sir Tom added.