Inquiries after child drowns at Flintshire holiday park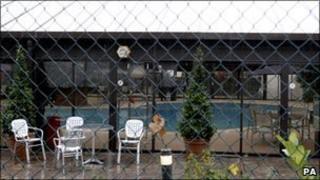 Investigations are continuing after a seven-year-old girl drowned at a coastal caravan park swimming pool in Flintshire.
Eye witnesses have described how lifeguards and a woman, believed to be a doctor, tried to revive the girl at Talacre Beach Caravan and Leisure Park.
She has been named as Seojin Kim, from Birmingham, by John Gittins, deputy coroner for North Wales Central.
He gave the cause of death as drowning and adjourned an inquest.
Seojin, who would have been eight next month, was on holiday at the park with her family.
North Wales Police said Saturday's incident was not being treated as suspicious.
Witness Christopher Smith said: "The lifeguards were running around trying to get the ambulance on the phone.
"Not long after, a woman took over because she was a doctor and then the ambulance came and took her away.
"It was upsetting and I feel sorry for the parents."
Park managers said they were cooperating fully with the police inquiry.
James McAllister, deputy managing director of Talacre Beach Caravan and Leisure Park, said: "At this very difficult time we are doing everything we can to assist the authorities with their enquiries into this tragic accident.
"At this time our thoughts and prayers are with the family of the little girl."
The Welsh Ambulance Service said they were told the girl was found at the bottom of the pool.
An ambulance and a rapid response vehicle were sent to the park at 1540BST on Saturday and arrived within eight minutes.
Paramedics tried to resuscitate her at the scene and on the way to hospital but she was pronounced dead at Glan Clwyd Hospital.
Holidaymakers described a subdued atmosphere at the caravan park.
One said: "I think all parents here are in shock over it because it's not something you expect."
Another said: "We weren't here when it happened but when we got back we could see people going round looking really sad about it. It's very subdued. It's a horrible shock for the family and everybody."
The pool was closed on Sunday.
The park's brochure advises all children aged eight years and under who use the indoor heated pool "must be accompanied in the water by a responsible adult swimmer over the age of 16 years at all times".
A Flintshire County Council spokesman said: "Our deepest sympathies and condolences go to the family of the little girl who died.
"However, it would not be appropriate to comment on the specific circumstances whilst the formal investigation into this tragic event is underway.
"Officers from the council's Public Protection Service are working closely with colleagues from North Wales Police and will undertake a thorough and comprehensive investigation."