After Ryder Cup rain, is Wales really such a wet place?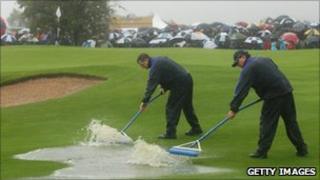 Was Wales simply living up to its rain-soaked reputation when the weather virtually washed out the Ryder Cup on its first day?
As millions of golf fans saw, the Celtic Manor in Newport was drenched on Friday.
But in stark contrast, Europe's victory over the USA in Monday's dramatic finale on the tournament's unprecedented fourth day was played out beneath sunny blue skies.
So is wet Wales a deserved title, or could other parts of the UK in fact be just as damp?
Part of the answer is this: yes, some areas of Wales are wetter than certain regions of the UK.
Many weather fronts arrive across the Atlantic hitting the west coast of Wales first, which is why parts of west Wales tend to get the heaviest rainfall.
This helps explain why Blaenau Ffestiniog in Gwynedd is officially the wettest town in Wales while Swansea is the wettest city in the UK.
But BBC Wales weather presenter Sue Charles said that in fact Newport is one of the drier places in Wales.
"It's a cliche to say that we had typical Welsh weather in Newport on Friday," she said.
"Newport stays relatively protected from the most severe weather because it's the on the leeward or more sheltered side of the hills and mountains.
"An area of low pressure from the Atlantic brought wet and windy weather right across the UK on Friday and Sunday morning and few places were immune to it.
"But the heaviest rain was actually across the south coast of England, Plymouth bearing the brunt of it."
Friday undoubtedly was an exceptionally wet day in Newport, with 15-20mm of rain falling across south east Wales - a fifth of the monthly average.
However, the Celtic Manor's £1m drainage system coped well under the extreme circumstances.
As the tournament came to its belated end, Wales tourism chiefs said that despite the bad weather, visitors would remember their "warm Welsh welcome".
A spokesperson for Visit Wales said: "It rained across Britain over the weekend, including Gleneagles, Celtic Manor's rivals to host this Ryder Cup.
'Stunning countryside'
"However, today the sun is shining showing how wonderful Wales can be during the autumn.
The spokesperson said the rain had not dampened the spirits and enthusiasm of the supporters and players.
"Visit Wales doesn't promote this country specifically as a sun, sea and sand destination.
"Our visitors are well aware of the changeable weather and choose to holiday here for our superb heritage and history, iconic attractions, activities, good food and stunning countryside, landscape and coastlines.
"We can't do much about the weather, but we can promote Wales' many other qualities to people who are looking for a more adventurous alternative to the beach holiday."