'Debt crisis' hitting over 50s in Wales, claims report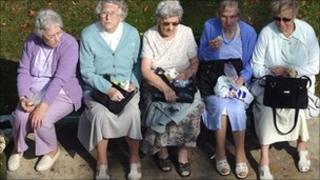 Consumer Focus Wales is warning that the next generation of retirees may face financial problems.
A report published by the campaigning group also found people are deferring retirement in order to make ends meet.
It is calling on the assembly government to do more to avert what they call a "debt crisis previously unseen in retired people".
A spokesman said it was already "working hard" to tackle pensioner poverty in Wales.
"This report is a wake-up call to the generation thinking of retiring from work - and anyone who hopes to retire in the future," says Maria Battle, director of Consumer Focus Wales.
"If younger people take the attitudes to debt into old age with them, we are likely to see levels of deprivation among older people soar."
The report, entitled Financing the Future, found many people in the 50 to 65 plus age group who took part in the research, defined themselves as "managing on a day-to-day basis".
They told researchers they expect the situation to become worse over the next few years due to the economic downturn, coupled with rising costs.
Some have put their retirement plans on hold and others say their planned pension pots have failed to live up to expectations.
In order to cope with their situation, the report said some are cutting back on grocery bills while others are using doorstep lenders.
The study highlights three areas which older people say cause them the greatest problems - fuel bills, food and council tax.
Consumer Focus Wales wants the assembly government, energy providers and lenders to offer financial advice and education to help people plan and budget better in later life.
A spokesperson for the assembly government said they are determined to tackle pensioner poverty in Wales.
The spokesperson said they are working hard so people can access affordable credit through investment in credit unions and registered social landlords.
"We have provided funding to councils to help increase the take up of council tax and housing benefits to ease the financial pressure on older people.
"We've worked with the Financial Services Authority to develop guides to help them plan for retirement. In addition to direct support, we also remain committed to free bus passes in Wales which help older people stay independent."