Former Swansea police station award bid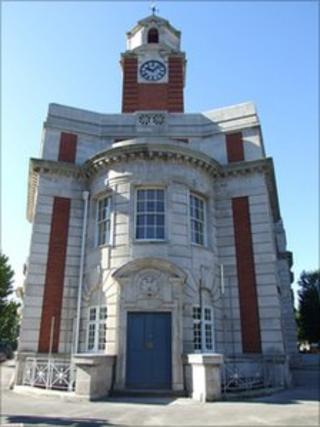 Swansea's former central police station has been shortlisted for an award recognising its contribution to regeneration in the city.
The Grade II listed building was bought by the social housing group Gwalia in 2003 and is now home to an art gallery, an advice centre and 80 student rooms.
It is up against a Cardiff shop regeneration project and a Denbighshire scheme to revitalise empty homes.
The winner of the Chartered Institute of Housing award is named next month.
Stuart Davies from Grŵp Gwalia said: "We've worked hard to restore the building to its former glory.
"The architecture is magnificent and we wanted the public to be able to enjoy it too - we're hoping that the development will help to revitalize this part of the city."
The Llys Glas development of the scheme in the city centre is continuing, with a a cafe bar due to open soon in the building.
It will operate on a social enterprise basis, providing local employment and training opportunities in Swansea.
Maisonettes
But the scheme faces tough competition for the CIH Cymru 2010 award for developing and regenerating communities.
It is up against a £6m project lead by Cardiff Community Housing Association to revamp part of the Trowbridge area of the city.
The project has turned a deteriorating block of 1960's maisonettes and shops into 45 new homes, five shops and a community centre.
In north Wales, Denbighshire council has also been shortlisted for its scheme targeting empty homes.
It is working with North Wales Housing Association in a bid to bring 800 empty houses back into social use.
The winner of the CIH Cymru award will be announced on 26 November.