Cardiff Bus smartcards are unveiled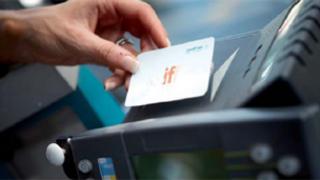 Cardiff Bus has unveiled a smart card that allows users to pre-pay for travel on city bus routes.
The company said it hoped the Iff Card, a play on "Card-iff," would become as well known locally as the Oyster card for public transport in London.
It said it was the first bus company in the UK to allow users to go into debit on its smart card.
The Welsh Assembly Government has helped with hardware costs for the scheme.
Cardiff Bus said it hoped the Iff name, developed by its design agency, would "become as much a term of local language in Cardiff as 'Oyster' is in London".
It said: "Even if the customer has forgotten to top up their card and run out of cash, it will always get them home, and the money is reclaimed when the card is next topped up.
"We see this feature as being particularly welcomed by parents of our younger customers, but as a safety back up as well for any customer."
The card also allows users to go £3 into debit, equivalent to two journeys in the city.
Card holders can credit their card in units of £5, £10 and £20.
Deputy First Minister and Minister for Economy and Transport, Ieuan Wyn Jones, said: "This is the latest in a series of investments into the transport network in Cardiff and further proof that we are all committed to providing the best service possible for passengers."
In May, Newport Bus launched both an ID smart card and a separate top-up payment card.