Swansea artist Tim Davies heads to Venice Biennale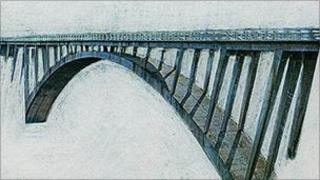 Swansea artist and lecturer Tim Davies has been named as the choice to represent Wales at the Venice Biennale exhibition.
Widely regarded as the world's most important event for international art, the festival is celebrating its 54th exhibition next year.
The decision to select Davies was made by the Arts Council of Wales
It is only the fifth time that Wales has staged an exhibition at the festival.
Davies, who is head of fine art at Swansea Metropolitan University, was named by the arts council after it whittled down a shortlist of just over 30 possible contributors.
"One of the reasons it is important for Wales to be at Venice is to continue to draw attention to the broader picture of art from Wales," said David Alston, Arts Director for the Arts Council of Wales.
"All those additional aspects of the exhibition are important as well as creating obviously the best circumstances for Tim Davies to achieve the work he wants to."
The artist already has an established international profile, as a winner of the fine art gold medal at the 2003 National Eisteddfod.
He was also chosen to exhibit at the Artes Mundi show in Cardiff 2004.
He will be supported in his Venice Biennale exhibition by a team, led by Tom Rowlands, who has featured the artist's work in recent London shows.
"Tim Davies' work makes a huge visual impact, and is admired for its ability to distil conceptual concerns with formal cohesion, in whichever medium he chooses for his pieces," said Mr Rowlands.
"He is a unique and committed artist who stands alone with his consistently robust installations, films and works on paper."
Prof Dai Smith, the arts council chair, added: "This will only be the 5th exhibition from Wales in this foremost international arena for the visual arts.
"Each one has had an impact and demonstrated both distinctiveness and an ability to engage at the highest level in the now globalised visual art world.
Velvet Underground
"In a devolved Wales and even one facing enormous constraints, it will continue to be vital that the country's creativity continues to register on the world stage."
The decision to chose Davies also builds on links with Swansea Metropolitan University.
Lecturer and photographer Peter Finnemore represented Wales in 2005, while last year, two of the college's students undertook work experience with Velvet Underground founding member, John Cale on his exhibition in Venice.
That piece of installation artwork is going on show for the first time in Wales on Friday at the National Waterfront Museum, for the Swansea Festival of Music and The Arts.
'Dyddiau Du/Dark Days' explores Cale's Welsh heritage, including footage of Garnant, Ammanford in which the sunrise is filmed at the house where he was born, and the nearby Black Mountain.