Welsh families sign up for life in Snowdonia in 1890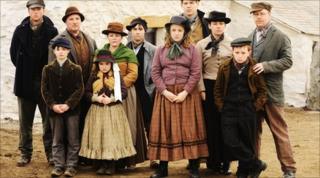 Two families are giving up their home comforts to travel back to Snowdonia in the 1890s for a BBC Wales reality TV series.
The Joneses from Denbigh and the Braddocks from Abergavenny, Monmouthshire, have signed up to live in a Victorian world for four weeks.
The men and boys will tackle back-breaking work at a local quarry.
The women run the house and a smallholding to put food on the families' tables.
Snowdonia 1890 follows on from the two Coal House series which transported families back to live in a mining community in Blaenavon, south Wales, first in the 1920s and then during World War II.
In this series filmed mainly in Rhosgadfan the families will be helped by local people such as a butcher, preacher and teacher, who will appear as 1890 versions of themselves.
Grandmother Heulwen, 75, the oldest member of the Jones family, said one motivation for taking part came from her late father who was a Snowdonia quarryman.
She said her son David, a partner in a law firm, had always been keen to know more about the life of the grandfather he never knew.
"He wants to know because of my past, of losing my dad in the quarry. He wants to know what it was like - to see what kind of life dad had," she said.
Joining the pair will be David's wife Catrin, a tribunals officer, and eldest son Ben, 18, Ela, 11, and Jac, nine.
Their neighbours will be the Braddocks. Mark, a medical technician with the Welsh Ambulance Service, wife Alisa, and children Jamie, 19, Jordan, 16, Tommy, 13 and Leah, nine.
Before entering the farmhouses, the families were realistic about the hardships they could face - but looking forward to seeing how they would cope as a family.
Alisa Braddocks said: "I thought it would be good to be out in a house where you've got no mod cons - really get back to basics and bond as a family."
For the Jones family, the manual labour was on the minds of Ben and his father.
"I'm looking forward to some graft. I get in the car, go to school, stay in school and come home," says Ben.
"I'll have to be a lot more independent and think for myself."
His father said he was looking forward to "going back to a way of life that we never get the chance to understand", while admitting the manual labour would be "a shock to the system".
Mark Braddocks was realistic about the hardship of what he was about to face.
"If we don't have enough slate or make enough tiles, we don't get paid. Back then they had that worry, if they didn't work, they didn't eat," he said.
The series, starts on Monday, 18 October, on BBC One Wales and continues every Monday, Wednesday and Friday at 1930 for three weeks. The Making Of Snowdonia 1890, will be shown on Sunday, 17 October at 1830.