Tighter controls on sun bed use to protect children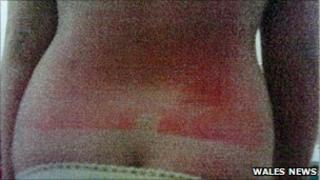 New regulations to protect children from the dangers of sun beds are being unveiled by Health Minister Edwina Hart.
It comes after a number of cases in Wales where children have been burned.
Tanning salons will have to be supervised to ensure children cannot use sun beds.
Earlier this year, former Cardiff MP Julie Morgan won a change in the law which sees under-18s banned from using tanning salons in Wales and England.
The act comes into force next April and includes regulation-making powers for Welsh ministers.
The assembly government proposals are subject to a three-month consultation.
The need for supervision has come about because of unmanned automatic coin-operated salons, one of which was used by 10-year-old Kelly Thompson from Port Talbot who received 70% burns last year.
Mrs Hart said: "There have been a number of high profile cases over the past 18 months involving harm to children from using sun beds in unsupervised tanning salons.
"This has raised questions about the effectiveness of current practice and calls for tighter regulation of the tanning industry. I am determined to address this.
"While the main focus of the regulations is to protect children, they also provide the requirement for sun bed operators to provide more advice and protection for adults."
In another case, a 14-year-old burned her back and stomach while using a coin-operated machine at an unmanned salon in Swansea in June.
There has been widespread support for a ban in sun bed use among under 18s.
Girls Aloud singer Nicola Roberts has campaigned publicly to raise awareness about the issue.
She joined former Cardiff North MP Mrs Morgan to launch the bid for a change in the law in the Commons in January.
"It's great that this is moving ahead," said Mrs Morgan. "This law gives regulatory powers to the assembly."
The Sunbed Association, which has 1,500 members among the 6,000 estimated in the industry in the UK, also welcomed the proposals, saying they do not allow unsupervised tanning salons to join their membership.
Over the last 25 years, rates of malignant melanoma in the UK have risen faster than any other common cancer.
Chief Medical Officer for Wales, Dr Tony Jewell, said: "This is an issue that I have raised in my annual report, which will be published tomorrow.
"We are concerned about the increased use of sun beds and these regulations will help to reduce the risks of skin damage and cancer."
The Sunbeds (Regulation) Act 2010, originated as a Private Members' Bill introduced by Mrs Morgan comes into force next April.
The assembly government's consultation runs until December.
It is intended that the regulations will come into force in October 2011.
Tracey Loftis, Cancer Research UK's public affairs manager, said: "Cancer Research UK warmly welcomes the Welsh Assembly Government's proposed regulations to protect children and young people from using sun beds.
"It is vital that government regulations in England as well as Wales ensure that all tanning salons are properly supervised so that children cannot use sun beds."