Assembly measure gives Welsh status 'equal to English'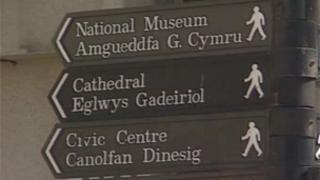 Ministers have made more than 100 changes to a proposed measure or Welsh law on the Welsh language.
They say the amendments will give the language equal status with English in Wales, requiring companies and public bodies to use more Welsh.
But language campaigners have condemned the measure as being too weak.
There are also concerns about the role of the proposed commissioner who will replace the Welsh Language Board in promoting the language.
A proposed new law on the Welsh language was published by the assembly government in March.
The measure is the longest and most complicated piece of legislation yet put forward by ministers in Cardiff and has resulted in sustained controversy.
Heritage Minister Alun Ffred Jones said the amendments make "a clear statement confirming the official status on the Welsh language and how it is given legal effect".
He told Radio Wales the "beefed up" role of the proposed commissioner aimed to head off the need for people to take legal action over their rights to use Welsh when dealing with firms and public bodies.
He said: "The commissioner is there to enforce those standards [of Welsh language provision] so that Welsh speakers who want services through the medium of Welsh, can do so.
"And if they feel that they're not getting it, they go to the commissioner and make their case and the commissioner investigates and, if necessary, makes sure that service is provided. It's all very simple."
In July, an all-party assembly legislation committee said it wanted a clear statement that English and Welsh are official languages of Wales.
Menna Machreth, chair of Cymdeithas Yr Iaith (Welsh Language Society), said there was clear evidence to the committee "that there was need for official status and rights for people to use the Welsh".
She told BBC Radio Wales: "They [ministers] have not delivered on that principle.
'Too complex'
"It's very dangerous that the government are using the rhetoric of campaigners just to show that they have ticked the box when they haven't actually delivered."
Meri Huws, chair of the Welsh Language Board, said she was not convinced the language measure was being used to its full potential.
She said: "It's too complex. A strong, clear, and perhaps simple piece of legislation would have been more useful."
She said the role of the commissioner did not address a large proportion of the board's work such as promotional work on the language.