Census 2011 needs 2,000 Welsh workers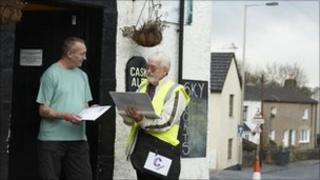 Next year's national census will need an army of around 2,000 temporary workers in Wales, say its organisers.
The census takes place across the UK every 10 years, and next year 'census day' will by 27 March.
Officials said they anticipate needing 35,000 people to help gather and collate the statistics from households in Wales and England.
The Office for National Statistics (ONS) has now launched a recruitment drive to fill those posts.
ONS Census Director Glen Watson said: "I am pleased to announce the start of our campaign to recruit 35,000 people across England and Wales for the 2011 Census.
"The 2011 Census is less than six months away. We need to give people help and support to complete and return the census questionnaire and this means recruiting the right people for this important nationwide project."
Welsh 'tick-box'
Last year, 33,000 homes on Anglesey took part in a rehearsal for the exercise, with people answering 57 questions - including for the first time the option to mark identity as Welsh.
The ONS said it wants people to come forward to help ensure that every community is aware of the census taking place, and to support people to ensure they can complete and return their census questionnaires.
"The census is not just about counting people, the information it provides is needed to plan vital services like schools, hospitals, housing, roads and emergency services," added Mr Watson.
The ONS has launched an online registration site for anyone interested in applying to work for the 2011 census.