CCTV of soccer fans whose abuse led to train protest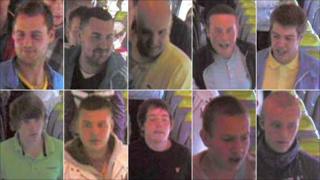 CCTV images have been released of 10 men accused of "obscene" behaviour to a female train passenger prompting her to stand in protest on the track until police were called.
Lisa Robinson, 41, her husband and son, five, were verbally abused by Cardiff City fans on the Penarth-Bargoed service on Saturday 25 September.
She halted the train at Ystrad Mynach after her complaints went unheeded.
The Bluebirds fans were travelling home after a home win over Millwall.
Now British Transport Police (BTP) has issued still pictures of 10 men they want to question over a disturbance.
Mrs Robinson, a civil servant, was returning home with husband Peter, 61, and son Harry, from celebrating Harry's birthday in Cardiff.
She told British Transport Police (BTP) how City fans began abusing her after she asked them to stop shouting sexist chants at a woman on the platform at Lisvane railway station.
"Then their chanting became directly to me and it became sexist and quite obscene until by the time we got Caerphilly, I pulled the red handle and stopped the train," she said.
The train driver came out and Mr Robinson asked him to call the police, but the driver continued with the journey.
Once she arrived at her home station of Ystrad Mynach, Ms Robinson again asked the driver to call the police. When he refused, she decided take "direct action" and climbed down onto the track.
She said she was abused further by the men before the police were called. The service was subsequently terminated at the station, leaving the football fans to walk away
"This is my community, this is my village," she said.
"We're not going to be bullied and certainly for women and families, they should be able to travel on the train in peace and quiet and go about their business without being bullied like that."
'Loutish behaviour'
British Transport Police (BTP) Detective Inspector Mark Cleland said: "BTP will not tolerate disorder or anti-social behaviour of any kind on trains or at railway stations across the network.
"Tens of thousands of football fans use Britain's railways to get to and from matches every week and the vast majority of them are well behaved and cause BTP no problems whatsoever.
"However, a minority show complete disregard for other passengers, including those travelling with young children, and members of rail staff - all of whom have the right to travel or carry out their duties without being frightened, intimidated or subjected to loutish behaviour by a minority of so-called fans."
Anyone who recognises any of the 10 men in the CCTV images is urged to contact British Transport Police on on 0800 40 50 40 or the independent charity Crimestoppers anonymously on 0800 555 111.