BBC cuts spending on S4C by £4m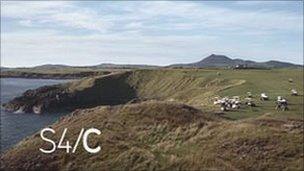 BBC Wales plans to cut £4m from the £23.5m it spends annually on programmes for Welsh language channel S4C over the next three years.
Director Menna Richards said BBC Wales must make £15m of annual savings from its total budget by 2013.
The BBC would continue to play a "very full part at the heart of S4C's schedule", she said.
Both S4C and the Welsh Assembly Government said the news was "disappointing".
The BBC produces around a fifth of S4C's programmes including news in Welsh and the TV soap Pobol y Cwm.
Ms Richards said she informed S4C of the proposed changes in June and they had been endorsed by the BBC Trust.
She said the BBC had to be "realistic about the constraints of future funding" and its expenditure on programmes for S4C had increased by 20% over the last three years.
"Our programming contribution to S4C is a vital component in our range of services for Welsh language audiences," said Ms Richards.
"We also know this output is highly valued by S4C's audiences.
"We deliver about a fifth of S4C's total output yet attract almost 40% of the channel's viewing."
She added: "Under the financial plans I shared with S4C, the BBC's investment in programming for S4C would fall from £23.5m this year to about £19.5m in 2012/13, broadly equal to our planned expenditure on English language television programmes over the same period.
"We have of course assured S4C that our investment will still enable the BBC to play a very full part at the heart of S4C's schedule."
BBC Wales will continue to deliver its statutory obligation of at least 520 hours of programming to S4C a year.
Ms Richards said: "We clearly recognise that the planned reduction will pose challenges for both S4C and our own production teams.
"We are plainly faced with some very tough choices, but I do believe it is unsustainable for our funding of Welsh language television output to be protected from the challenging efficiencies that the rest of BBC Cymru Wales' programme areas have been managing over a number of years."
A spokesperson for S4C said: "BBC Wales' commitment to Welsh language programming and its contribution to S4C is an extremely important part of the channel's schedule.
"We are obviously disappointed at this proposed cut in investment by the BBC in Welsh language programming which comes at a particularly difficult time for S4C.
"The reduction in investment announced by BBC Wales and the way that it would impact upon content for S4C will be the subject of ongoing discussions between the two broadcasters within the framework of their existing strategic partnership agreement."
The assembly government said it would be very concerned if the budget cut led to a reduction in the quality of programming.
A spokesperson said: "This is disappointing news.
"We accept of course the need at this time to ensure that expenditure by public bodies is spent effectively and creatively.
"The assembly government believes it is important that audiences are presented with services of a high standard in the language of their choice.
"The role played by television in helping to promote the language remains as important as ever."
Related Internet Links
The BBC is not responsible for the content of external sites.