Funeral of Newport soldier killed in Afghanistan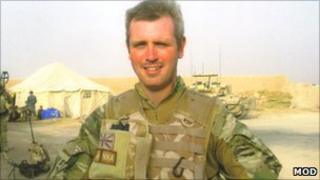 The funeral has taken place of a Welsh soldier killed by a roadside bomb in Afghanistan.
Sgt Andrew Jones, 35, from Newport, and a second soldier died last month while on patrol in Lashkar Gah.
While on leave in August he started to plan a Disneyland holiday with wife Joanne, and their three children, once his tour finished.
A statement written by friends on behalf of Sgt Jones' wife, describes him as a soldier and family man.
"He always spoke of his love for Jo and his three children. He was very proud of them all.
"When he was home or on leave they always tried to make the most of the time they had together.
"They loved going on holidays and going out for days together as a family.
"The most recent leave was in August this year, midway through the tour of Afghanistan, which they spent planning a family holiday to Disneyland that they would have when he came home for good.
"Tragically, after returning to Afghanistan, when he was five months into his tour, he lost his life fighting for his country."
Sgt Jones, of the Royal Engineers, was killed alongside a second soldier, Trooper Andrew Howarth, of The Queen's Royal Lancers.
Sgt Jones was a student at Lliswerry Comprehensive School in Newport before joining the Royal Engineers.
The day after his passing out parade, he married Joanne at St Andrews Church, Liswerry, Newport.
Sgt Jones served in Kosovo in 2000 and 2001 and in 2003 also served in Iraq and Bosnia.
"Throughout his Army career he always put himself forward for courses, even though he knew this meant spending weeks or even months away from home," said the statement.
Passing out parade
"He knew that the more courses he did, it would further his Army career and meant he could give his family the life he felt they deserved."
His parents, Jim and Eileen, and sister Alison, also issued a statement.
"Andrew was always a loving and caring son and brother, with a wicked sense of humour," they said.
"As a youngster and in his teens he had a love of history, particularly anything to do with military reading on armies throughout the centuries.
"His granddad served with the Royal Engineers during the Second World War so when, in his late teens, Andrew decided to join the Army, the Royal Engineers were the only regiment he wanted to join.
"One of his, and our proudest moments, was his passing out parade at Bassingborn in May, 1998. The following day he married Joanne."