Nose for vandalised Cardiff Castle anteater statue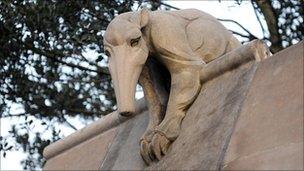 A historic statue of an anteater which stands guard on Cardiff Castle has undergone a facelift after being fitted with a new nose.
The 18-inch stone snout was broken off by vandals 12 years ago.
The anteater is one of 15 stone animals on the Castle Street wall.
The statue was brought back to former glory as part of a £5.6m restoration project. The wall was originally designed by William Burges in the 1860s for the third Marquis of Bute.
The wall was originally in front of Cardiff Castle but in 1922 Duke Street it was moved to its current position to the left of the entrance.
Restoration work began in June including the replacement of the anteater's nose as well as new glass eyes which were missing from two animal statues.
The wall was also given a light clean with badly broken or missing stone replaced and graffiti removed from the back of the animal wall.
Nine of the 15 sculptured statues date back to the 1890s and the remaining six were commissioned in 1922.
The restored statue was unveiled by Jenny Cronin whose grandfather Enoch Palmer worked on the wall in the 1920s.
Dan Clayton Jones, chair of the Heritage Lottery Fund in Wales that helped fund the restoration project, said: "The animal wall is a quirky and iconic feature that helps make Bute Park and Cardiff a truly unique place.
"It's fantastic to see the anteater's nose and the rest of the animal wall brought back to its former glory.
"The wall is a symbol of the city's colourful past and an attraction for visitors and locals to enjoy for generations to come."
Related Internet Links
The BBC is not responsible for the content of external sites.