£1.6bn Welsh exports drop 'disappointing'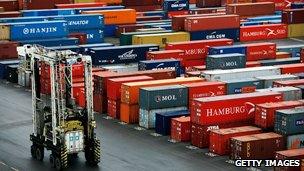 Welsh exports fell in value by £1.6bn in the 12 months to June this year, figures show.
Exports to the EU fell by £480m or 9% while those to non-EU countries dropped £1.1bn or 22.8%, according to HM Revenue & Customs figures.
Wales had the largest decrease of the devolved countries and English regions.
The Welsh Assembly Government said the figures were "disappointing" and "illustrate clearly the challenges Wales faces when it comes to exports".
Energy, including coal, fuels, petroleum products and the machinery for energy generation, was Wales' top export in 2009, accounting for half of sales to the USA, and 30% of total Welsh exports in the 12 months to June this year.
But energy exports fell by 24.3% in the 12 months to June this year, as well as in the previous four quarters.
After the USA, the largest export markets for Welsh products over this period were Germany, Ireland, the Netherlands and Belgium.
Exports to Germany and Belgium fell as did those to the USA which had the largest absolute fall, down £24m or 15%. Exports to the Netherlands rose £224m or 62%.
Kath Ringwald, senior lecturer at University of Glamorgan's business school, said the figures suggested that western countries were emerging from recession at different speeds and thus had different purchasing powers.
She said: "If we are exporting to countries like ourselves, who find it difficult to sustain recovery, with debt issues and job uncertainty, then the demand for the sort of products we can provide is not going to be high.
"If demand in these countries goes down, we are not going to be selling them goods."
David Phipps, a Penarth-based consultant in international trade, said Wales remained heavily reliant on a handful of export markets.
He said: "The shaky economic outlook in the USA during late 2009/early 2010 severely dampened US consumers' and businesses' demand.
"Although Germany was very much the opposite of the USA and should have given Welsh export activity a boost, this was negated to a large extent by problems elsewhere in many of our other EU markets - Ireland, Spain and Italy being prime examples."
In July, the assembly government announced it was focusing on six sectors where Wales "has clear advantages for growth".
The six sectors are: creative industries; ICT; energy and environment; advanced material and manufacturing; life sciences; and financial and professional services.
A spokesman said: "The reality is that the markets we export the most to, in particular Europe, are experiencing their own economic difficulties.
"Exporters everywhere are finding it difficult to sell to markets who themselves are going through tough times. There are no easy answers and the route out of this will be long and difficult.
"We recognise that over the long term, the performance of the Welsh economy has not met expectations.
"Our new approach seeks to maximise value from the money we spend and set out a clear role for the Welsh Assembly Government."
Related Internet Links
The BBC is not responsible for the content of external sites.