Architect's concern over performing arts buildings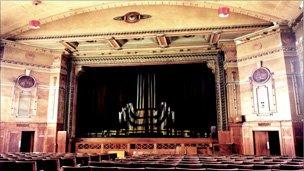 An architect who specialises in the performing arts sector says he fears a third of venues across south Wales will be gone over the next 10 years.
Rob Firman aims to catalogue 65 south Wales venues in communities from Monmouth to Milford Haven.
Many were built from subscriptions in former mining districts.
But as public sector cuts bite, Mr Firman said Wales was at risk of losing an architectural heritage which he said was "mind boggling" in its ambition.
The Yorkshire-born architect has so far catalogued around two dozen of the halls, institutes, cinemas, arts centres, ballrooms and theatres from the list he had drawn up.
Around two-thirds are in rural areas or towns, such as Brecon, while around 20 are in Cardiff, Swansea and Newport.
Mr Firman, 47, first came to Wales in 1981 to study at the Welsh school of architecture, and returned in 1998 as an architect for the project that delivered the Wales Millennium Centre in Cardiff Bay.
Now director of performing arts projects for a practice that worked on Newport's Riverfront Theatre, he said he considered himself part of the community that sought to preserve and promote the theatre sector.
But he found there was no one body or organisation that held all kinds of details about a venue, from its history and condition to its artistic and commercial vitality. So the idea for his research was born.
And the field work has left him with a new respect for the cultural efforts of previous generations in his "adopted country".
He is particularly impressed with the Parc and Dare Theatre in Treorchy, Rhondda, and the memorial hall, known as the "Memo", in Newbridge, Caerphilly county.
He said: "The entire heritage asset is truly wonderful. Every venue is unique.
"The ambition the miners had in architectural terms is mind boggling. They had the vision to commission architects."
But he said he fears for the future of the sector.
Performing arts buildings are "susceptible to the political cycle," he said, but must also work more collaboratively to play to their strengths, such as cinema, theatre or live music, rather than offer all types of entertainment.
He said: "At the moment, it is very Darwinian.
"Venues that are derelict will disappear. Venues that are about to close or be mothballed, they are simply going to slip into oblivion. That Darwinian process is unavoidable if nothing is done.
"In 10 years, there won't be 65 active venues in south Wales, there will be 40. In 30 years' time, there might be 10.
"Funding decisions about theatres take a long time to confirm. Often there is a change in political power and the decisions that were about to be made get rejected, abandoned or delayed.
"As soon as the hard times hit, we find ourselves in the luxury goods end of the market.
"We, the theatre sector, cannot carry on looking out for ourselves and being selfish. We cannot have venues three miles apart and competing for the same product.
"Some venues provide better facilities for performers, others for audiences, for all sorts of reasons.
"There is a sustainable future, the buildings are there for that to happen."
Mr Firman is presenting his research to The Theatres Trust Welsh working party later this month.
In July, the trust placed five old theatres in Wales on its at-risk register.
Related Internet Links
The BBC is not responsible for the content of external sites.