Residents' concern over off-road bikes in Blaenau Gwent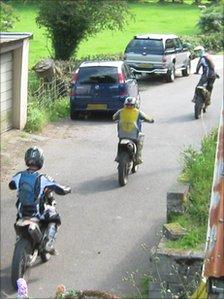 Concerns have been raised about off-road motorbikes being ridden illegally in Blaenau Gwent.
Police have received reports about unregistered bikes being ridden in lanes between Swffryd and Hafodyrynys.
The lanes are public highways and vehicles must be fully registered, licensed, taxed and insured.
Gwent Police are appealing for information and have released pictures of off-road motorbikes being ridden in the Pont Bren area.
There have also been complaints from residents around Swffryd Road and Mill Court.
Anyone with information, or who knows the riders pictured on the motorbikes, is asked to contact Gwent Police on 01633 838111.