Research suggests 'north-south divide' in Wales on cuts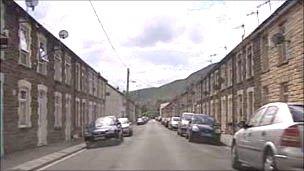 The south of Wales may find it harder to deal with public sector cuts than the north, according to new research.
A BBC Wales-commissioned study suggested a north-south divide in Wales, with the north generally more resilient to the cuts.
There are also big differences in the way counties just a few miles apart are expected to cope, with Monmouthshire and Blaenau Gwent top and bottom.
The south Wales valleys were said to be among the least resilient areas.
The research aimed to illustrate the ability of areas to withstand and respond to shocks such as job reductions.
Researchers looked at themes such as business and community, and examined 31 different factors to produce the index.
They studied the strength of the local business base, people's skill levels, life expectancy, crime rates and house prices.
The ranking is influenced by factors such as the number of business professionals and the percentage of green space an area has.
The BBC commissioned the research as part of The Spending Review: Making it Clear season, which looks at the UK government's plans to make huge public sector savings.
The results of the coalition government's spending review will be announced on 20 October. This will reveal which departments will see their budgets cut and by how much.
Based on the BBC research, Wales' 22 local authority areas were given an overall ranking from most resilient to least resilient or most vulnerable.
Monmouthshire is said to be the most resilient county and nearby Blaenau Gwent the least resilient.
A north-south divide also emerged, with Flintshire, Gwynedd, Conwy, Anglesey and Denbighshire among the dozen most resilient counties.
The south Wales valleys of Rhondda Cynon Taf, Caerphilly, Merthyr Tydfil and Blaenau Gwent were among the least resilient.
The research suggested Powys and Cardiff had highly resilient business bases, while Merthyr Tydfil fared worst in this section.
Powys and Ceredigion had the highest "community resilience", with Merthyr scoring lowest.
Monmouthshire was said to have the highest "people resilience", with the highest concentration of highly qualified workers.
Spending Review: The Wales Debate is on BBC One Wales on Tuesday at 2235BST.
As health, policing and council services face the prospect of the most severe public spending cuts in 80 years Betsan Powys and Jason Mohammad talk to those making the savings and those who will be hit by them.
They'll be asking the audience to vote on how they would help balance the books.
Related Internet Links
The BBC is not responsible for the content of external sites.