Aberdare family's historic letters saved for nation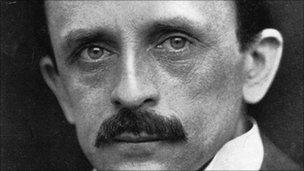 A century's worth of letters to prime ministers, Queen Victoria, and authors like JM Barrie and Edward Lear are among a treasure trove of documents saved for Wales.
The letters chart the lives of influential Victorian coal and iron family, the Bruces of Aberdare.
They have been on loan to the Glamorgan Archive for nearly 50 years.
But they will now remain there permanently after a deal in lieu of tax on death duties.
Henry Austin Bruce was created First Baron Aberdare in 1873 by Queen Victoria.
In a later letter, the monarch expresses her concern and sympathy over an illness being suffered by Bruce's daughter.
Under the little-known assets-in-lieu scheme, HM Revenue and Customs can accept goods with a strong historical or cultural value to the country in place of the 40% death duties which would ordinarily accrue on any estate worth more than £325,000.
Its aim is to save important articles which would otherwise have to be sold to private or foreign enthusiasts to cover the debt.
Although already a wealthy family, the Bruces rose to prominence in the 1830s, after the discovery of vast reserves of coal under their family's estates in Aberdare and Duffryn.
After this Henry Bruce quickly scaled back his fledgling career as a barrister to concentrate on his coal interests, as well as his stake in the Dowlais Iron Company.
He became Liberal member of parliament for Merthyr Tydfil aged 39 in 1854, and home secretary in Gladstone's government of 1868.
Bruce's five-year tenure in the Home Office might not have won him many friends.
His letters show that his three chief areas of concern were suppressing the Irish rebellions, toughening-up the licensing laws, and making hanging more humane by standardising the length of ropes used, according to the condemned man's height and weight.
He retired from politics after Gladstone's government fell in 1874, a year after being created Baron Aberdare.
His achievements in later life included securing the charter which founded Cardiff University in 1894, as well as becoming Chairman of the West Africa Company, (whose assets were nationalised in 1899, to become The Protectorate of Nigeria.)
The letters he wrote and received until his death aged 79 in 1895, along with those of his children who struck up friendships with J.M Barrie and Elizabeth Bowes-Lyon, the future Queen Mother, will take pride of place in the newly-created Leckwith home of the Glamorgan Archives.
The state-of-the-art building contains light and humidity controlled storage for rare artefacts, as well as a centre for the restoration and preservation of damaged or particularly fragile documents.
Glamorgan archivist Susan Edwards said: "The Aberdare Papers have provided us with such a rich understanding of both 19th Century valleys life, and Westminster politics of the day, so it is vitally important that they were saved as a resource that everyone can access and study."
"They're so special because of their rich variety; ranging as they do from high-powered ministerial discussions to mundane domestic details, and even light-hearted banter with Edward Lear, who drew Baron Aberdare a surreal self portrait of him riding his pet cat.
"This donation came just at the right time as we open our fantastic new facility.
"I can only encourage people to come along and have a look at what a rich documentary heritage there is throughout the historic area of Glamorganshire."
Heritage Minister Alun Ffred Jones added: "I'm delighted these papers have been permanently allocated to the Glamorgan Archives through the acceptance in lieu scheme.
"Members of the public will continue to be able to enjoy these interesting and historically important documents."