Parents oppose sixth form closure in Blaenau Gwent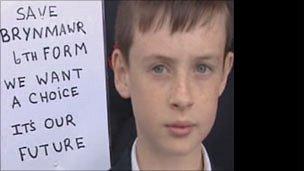 Parents and pupils have presented a 2,000-name petition to the assembly government, protesting at plans to close a sixth form.
Blaenau Gwent council has put forward plans for a new £111m learning campus at Ebbw Vale, bringing all post-16 education together on one site.
But parents and governors at Brynmar Foundation School say children should have choice.
Blaenau Gwent Council would not comment as a judicial review was under way.
This was launched earlier this summer after the foundation school at Rhydw, Brynmawr, along with Bishop Hedley Catholic High, Merthyr Tydfil, legally challenged the Welsh Assembly Goverment's decision to delegate the education shake-up to local authorities.
The assembly government has asked all local authorities to review post-16 education and some authorities are planning on going further than others.
Blaenau Gwent council proposes closing the sixth form at Brynmawr as well as sixth forms at Tredegar Comprehensive and Ebbw Vale Comprehensive and moving to a new facility at The Works, to be run by Coleg Gwent.
Mike Charles from Sinclairs solicitors, Penarth, is representing the two schools which have launched the legal challenge against assembly ministers.
He says the case will be considered in Cardiff high court in January on the basis that the assembly government should be required to take action affecting independent schools rather than a local authority.
Mr Charles and parents like Mandy Howells, who sends her two children to Brynmawr because it has a sixth form, are concerned some young people may not be ready for a college environment.
She said: "We are hoping the petition will make an impact and change things and get the Welsh assembly to reconsider and keep sixth forms available.
"We are not against the college but there should be choice if people want a sixth form."
Blaenau Gwent executive committee is to publish shortly its proposals as a statutory notice.
This will trigger a two month period for people to raise objections.
Then, all objections together with the council's observations will be sent to the Welsh Assembly Government for a final decision.
Headteacher James Retallick said a public meeting for parents will be held once the notice has been published.
Referring to the petition, he said: "The school is taking its own action with a legal route and challenge whereas the parents have their own concerns and the parents' action is to present a petition."
The new post-16 campus would be on 200-acre site, being developed following the closure of Ebbw Vale's steelworks in 2002.
It involves new primary and secondary schools and a new, post-16 institution serving the whole of local authority.
In Merthyr, Bishop Hedley Catholic school is also challenging Merthyr Council's proposals to restructure delivery of post-16 education, meaning the possible loss of a faith-based provision.
Related Internet Links
The BBC is not responsible for the content of external sites.