Spending cuts in Wales 'not child's play'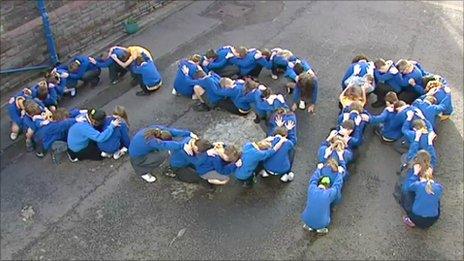 The Comprehensive Spending Review - or CSR - will be anything but child's play.
How to cut the national debt while keeping our schools and hospitals in good shape is no easy balancing act.
The UK's coalition government is committed to public spending cuts of £82bn.
That means tough decisions on the proposed military training academy in St Athan, Vale of Glamorgan, or the funding of Welsh-language TV channel S4C, for example.
It also puts in doubt plans to electrify the rail line between south Wales and London.
That project was announced by the last Labour government but, at a cost of £1.1bn, the electrification of the line between London and Swansea could face the axe.
"We could have a train line but no trains" according to Prof Stuart Cole, from the Welsh Transport Research Centre.
"The planning stage for setting up the overhead wiring and engineering work is complete but no real money has been spent yet.
"The second stage is the purchase of the trains and the [UK coalition] government has made no decision at all on that.
"If we don't get electrification, south Wales is going to suffer."
Prof Cole added that cities like Cardiff and Swansea will be in competition with Leeds and Sheffield.
"If they are given the high-speed rail link, their attractiveness to inward investors is going to be far greater than south Wales," he said.
The CSR will make clear how much money the Welsh government will have.
Under the Barnett formula, any decrease in public expenditure in England on matters that are devolved will be reflected in how much money Wales will get.
Put simply, the Welsh Assembly Government gets a chunk of money - £15.7bn this year.
The money is allocated according to a population rather than a needs-based formula and that, according to a report published earlier this year, is unfair.
Its author, Gerry Holtham, argues Wales is a big loser even before the pending cuts.
He said: "If we were on a needs basis, our calculation is we would get £300m-£400m more.
"Unfortunately I don't think there is any sign that it's going to change in the near future."
The main problem is while Wales is somewhat underfunded under the Barnett formula, Scotland is hugely overfunded.
"We are talking £4bn a year, and to cut the Scots by 15% at the same time as cutting public expenditure by 25% in five years anyway is politically very difficult if not impossible," Mr Holtham said.
Doing more or even just the same with less money won't be easy for First Minister Carwyn Jones.
A man used to cutting the ribbon on new projects, he might have to put some plans on the back burner.
The chair of the Welsh Conservative Economic Commission, Dylan Jones Evans, is calling for a radical approach by the Welsh Assembly Government.
He said: "If you look at the difference between free prescriptions, free hospital car parking, the amount of extra managers in the NHS versus the jobs of doctors and nurses, there are difficult decisions to make.
"In good times you can afford free prescriptions for all but of course the middle classes get those on top of what they should be paying for."
Welsh Assembly Government ministers have already been making their financial planning on the basis of cuts.
With assembly elections on the horizon the timing couldn't be worse.
Expect to hear the words "Westminster-enforced cuts" being mentioned by Carwyn Jones more than once over the next few months.