Swansea Council to tackle social services sick leave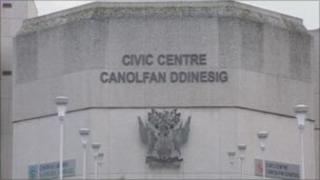 Staff at Swansea Council's social services department took an average of 19.5 days off sick last year, it has emerged.
The council blamed the nature of the business and the impact of long term sickness, but said this year's figures show signs of "improvement".
An internal annual report describe the figures as "substantially outside the target".
The council said it plans "proactive work" to tackle the issue.
The report is discussed by councillors on Thursday.
The social services' sickness figures mean that overall the council averaged 12.9 days of sick leave per employee - the second highest for a Welsh local authority.
The authority currently has a target of 12 days sick leave per worker.
According to the report, four out of six council departments bettered this target but the high sick leave in social services resulted in an overall sickness absence figure for the authority of 12.9 days.
'Too high'
The report described the figure for social services as "substantially outside the target causing an overall negative result."
The authority plans "proactive work" to tackle high levels of sickness among social services staff, according to the report.
A council spokesperson said: "The sickness figures can be attributed to a number of factors including the nature of the business and the impact of long term sickness.
"However early indications show a marked improvement in social services sickness now compared to this time last year."
Plaid AM Helen Mary Jones said the figure was "too high" and called for more support for social services staff so they do not become ill.
The average figure for days lost each year in Welsh councils is 10.93.
Monmouthshire is the only authority to have a higher overall rate of sick leave with 13 days lost per employee on average.
Mounting pressure
However, child protection expert, David Niven, who is the former chair of the British Association of Social Workers, said the level of sick leave came as no surprise.
"The stress and the vacancy rates, and the pressure on social workers in the last five years especially has grown exponentially," he argued.
"Every day in England and Wales alone there are 30,000 children who are subject to child protection plans, for example, and that is just taking care of the children's sector.
"Everyone of them has to be assessed and judged, and visited and maintained, and actually protected from the harm that they have been identified as being under.
"Then you couple that with the enormous bureaucracy and time that has to be spent in front of a computer actually filling in the details.
"Therefore, it doesn't surprise me at all."