NHS board apologise over cancer patient's taxi transfer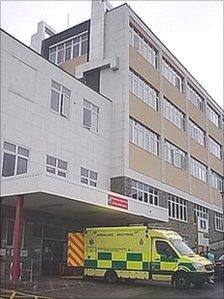 A health board has been told to apologise to the family of a cancer patient sent 80 miles by taxi for treatment he was too ill to receive.
The Public Services Ombudsman for Wales, Peter Tyndall, found the terminally-ill man was not accompanied by a nurse and not administered oxygen.
The man died days after the transfer from Aberystwyth to Swansea, made with very little discussion with the family.
Hywel Dda Health Board said it very much regretted the failings identified.
Peter Tyndall's investigation found the patient, referred to as Mr ML, had not been properly assessed to establish whether or not he had the mental capacity to consent to the transfer to Singleton Hospital in Swansea and there was no record of any formal consent having been obtained from Mr ML.
He also complained that there was inadequate preparation or communication with Mr ML's family prior to the transfer from Bronglais general hospital taking place.
The ombudsman found that there was no evidence to suggest that Mr ML had been properly assessed as being safe to travel unescorted and that record keeping in the case was in general substandard, with documentation poorly completed by staff, if at all, on many occasions.
Peter Tyndall's also found that a ward sister had falsified an entry in Mr ML's medical records more than a year after he had died.
He found that this was done in order to conceal the fact that the ward sister had failed to notify Mr ML's wife of his proposed transfer the following day and also to make it look as though Mr ML's wife - who went with him in the taxi - had agreed to accompany him.
The ombudsman found that the falsification of the entry in the medical records was a deliberate attempt to mislead and obstruct his investigation.
He has referred a copy of his report to the Nursing and Midwifery Council in order that it could consider the conduct of the ward sister responsible for tampering with Mr ML's medical records.
The ombudsman also recommended that the health board should carry out an audit of the standard of record keeping at Bronglais and review its procedures for discharging and transferring patients.
He told BBC Radio Wales, the patient's family were informed of the transfer with only 45 minutes notice.
He said: "We felt that the whole episode was badly managed."
He said that in addition to lung cancer, Mr ML had tumours on his brain which made him confused and he was too ill for radiotherapy he was being moved for.
He said: "Unfortunately, his cancer was terminal. He hadn't long to live. What should properly have happened is that he should have been made as comfortable as possible for his last few days."
A Hywel Dda Health Board spokesperson said: "We very much regret the failings identified by the ombudsman, both in relation to the complaint and the conduct of a member of staff during the investigation.
"The health board has now put in place procedures and plans to avoid a similar recurrence of the issues identified.
"A letter of apology will be forwarded to the family, with an assurance that the recommendations by the ombudsman have been taken seriously and that an action plan has been developed to address them."
Related Internet Links
The BBC is not responsible for the content of external sites.