Spending cuts could see Wales scrap universal benefits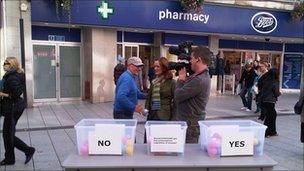 As part of our series looking ahead to the Spending Review, our political editor Betsan Powys has been examining whether some universal benefits may have to be scrapped to balance the books.
They're hailed by the Assembly Government as flagship policies - but derided by their detractors as "freebies".
Free prescriptions, free school breakfasts, free concessionary bus passes - all available to everyone in Wales regardless of income.
These policies had their critics during the years of relative plenty for Welsh budgets. It's now becoming clear that the issue of these universal benefits is going to be one of the key dividing lines for next year's Assembly elections, where the debate will largely centre around where cuts will fall.
I spent an instructive couple of hours with the lunchtime crowds on Cardiff's main shopping street earlier this week asking them a very simple question - should prescriptions be free for all, regardless of income.
A state of the art voting system involving putting coloured balls in boxes yielded 79 in the Yes box and 53 in the No. Very, very unscientific and it's fair to say that the response from a lot of those who'd plumped for the Yes option stood back, thought for a while and said "Yes...but".
Opposition leader Nick Bourne would certainly have gone for the No option. He says his party believes that many of these benefits will have to be targeted in future, as budgets fall to pay off the budget deficit. The Welsh Conservative leader says it's time to be realistic, and those that can pay, should pay in order to protect services for the most vulnerable.
"If there are people with broader shoulders, on above average incomes, who can pay a bit for their free prescriptions, they should do so.
"We know there isn't going to be enough jam to go round for everyone, I wish there were, we know there's not, so we've got to target that assistance, and I do appeal to the government here, Labour and Plaid Cymru to listen to the mood music because it's important to respond to that, it's the message of the times, and I believe it will resonate with the people of Wales."
The one scheme, he says, that would definitely remain universal under a Tory administration in Cardiff Bay is free bus passes, because of its social and environmental benefits.
The Assembly Government though, while bracing itself for cuts to its budget from the Spending Review, is adamant that universal benefits are something worth fighting for.
Minister for Budget and Business Jane Hutt says they give everyone in Wales a stake in society, and for that reason, they're of vital importance. She points out that having free school breakfasts for all children, for example, removes the stigma that can attach to free school meals, and free swimming for all encourages healthier living right across society.
"These are all policies with a purpose so they are priorities for us to try and protect.
"We don't know yet what the spending review will be, but these are priorities for a purpose, and they're important because everyone in Wales feels they're part of the policies; they're entitled to their bus pass, they're entitled to their prescription if they need it."
The health economist Professor Marcus Longley, director of the Welsh Institute for Health and Social Care at the University of Glamorgan says that in terms of evidence of health outcomes, the subsidy given to universal free prescriptions is difficult to justify. However, he says, there is a deeper benefit for the health service of keeping health services free for all.
"The health service, almost from the beginning, has never been entirely free - some people have had to pay for some things, so it's a myth to say the health service has always been completely free.
"But there is a huge strength, I think, in having everyone in society with a stake in the health service. We know that the educated middle classes are powerful advocates for the quality of health care - if they didn't feel they had anything in it, how long would it be before the health service started to deteriorate - I think probably not very long."
Of course, means testing wouldn't generate savings for the government on anything like the scale needed to meet the expected budget reductions, running to hundreds of millions over the coming years.
At least 80% of prescriptions would still be free, for example, to older people, benefit claimants, and those with chronic conditions. And means testing in itself costs money to administer.
One source who's seen civil service estimates of the savings that would be delivered by means testing called them "the small change at the bottom of Jane Hutt's handbag".
But there's still a battle to be waged at the next election that's more than just symbolic. In a public spending climate where every pound is going to count, even relatively small savings will have to be weighed and measured to balance the budget.
Related Internet Links
The BBC is not responsible for the content of external sites.