£26m funding to protect aerospace and car jobs in Wales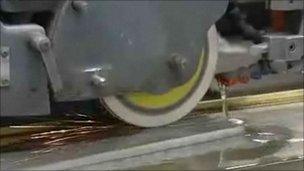 A £26m investment package to boost the aerospace and automotive sectors in Wales is to be announced later.
The assembly government claims the Advanced Sustainable Manufacturing Technologies (Astute) project could create 130 jobs, and protect hundreds.
Deputy First Minister Ieuan Wyn Jones will announce the funding at Swansea university which leads the project.
It is estimated Wales' manufacturing sector contributes around £32bn to economy and employs 193,000 people.
The Astute project aims to help 350 enterprises in Wales and help 40 collaborative research and development projects by applying advanced engineering techniques to both the design of products and to the manufacturing process.
The university-level collaboration includes the Universities of Aberystwyth, Bangor, Cardiff, Glyndwr, Swansea Metropolitan, UWIC, and the University of Wales, Newport.
It will be targeting firms across West Wales and the south Wales valleys in the aerospace, automotive and electronic engineering.
Mr Jones said: "Let me be clear, advanced manufacturing has a bright future in Wales and we will do all we can to support it."
Professor Mark Cross, of Swansea University's school of engineering, said: "The strong partnership consists of eight universities with a range of skills across a broad spectrum of engineering and science and so together we are able to address many of the technical challenges facing Welsh companies."
Related Internet Links
The BBC is not responsible for the content of external sites.