S4C funding link to inflation set for reform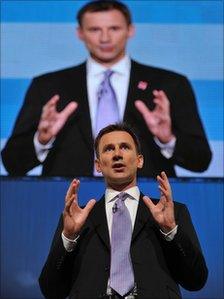 The culture secretary has said the UK government plans to reform the funding mechanism for S4C.
Jeremy Hunt said his department wanted to remove the Welsh language TV channel's funding link with inflation.
In response, S4C said it was not a government department but a public service broadcaster and should be treated as such.
The Welsh Assembly Government said it was "very disappointed".
Both the channel and the assembly government called for S4C to be treated as any other public service broadcaster in discussions on its funding.
The channel has been told that the Department for Culture, Media and Sport (DCMS) considers funding linked to the retail price index was "unsustainable in the current financial climate", with Mr Hunt intending to change it so that he will determine the level of funding.
An S4C spokesperson said: "Since 1982, S4C's funding has been enshrined in statute. This statutory link ensures S4C's long term stability and editorial independence, whilst also affording it protection from political intervention.
"S4C is a public service broadcaster not a Government Department. S4C should be treated in the same way as other public service broadcasters and on a similar timescale.
The spokesperson added: "In moving to a position where the secretary of state will decide the level of funding, it is essential that the long standing principle of the independence of operation of public service broadcasters continues to be protected.
"S4C has already proposed to DCMS that the S4C Authority conduct a root and branch review of its operations. S4C believes it is vital to future proof Welsh language television services."
An assembly government spokesman said the DCMS "should not ignore" its statutory obligations towards the channel, and that it was a public service broadcaster, not a government department or quango.
"S4C should be treated in the same way as other public service broadcasters when it comes to discussions about its long term future and funding," said the spokesman.
"S4C has a key role to play in ensuring that the Welsh language continues to thrive. In this regard, its role is more than just a broadcaster."
The assembly government urged Westminster ministers to undertake a full review of S4C's funding and operation to take a "considered, long-term view" about its future.
Earlier, Conservative MP Glyn Davies said he expected the guaranteed funding for S4C to be changed in next week's spending review.
The Montgomery MP said he expected that the Welsh-language broadcaster would remain as an independent body.
But he said it would be difficult to justify keeping S4C's budget at current levels while major cuts would be announced elsewhere.
In July it was reported that The Department for Culture, Media and Sport (DCMS) would cut S4C's £100m grant by 6% year on year, starting in 2011.
Mr Hunt on Thursday outlined the DCMS intended to abolish or reform 19 of its 55 public bodies.
"These changes will allow us to continue to deliver some of the world's best culture, media and sport, while at the same time ensuring efficiency, transparency and better value for money for the public," he said.
Related Internet Links
The BBC is not responsible for the content of external sites.